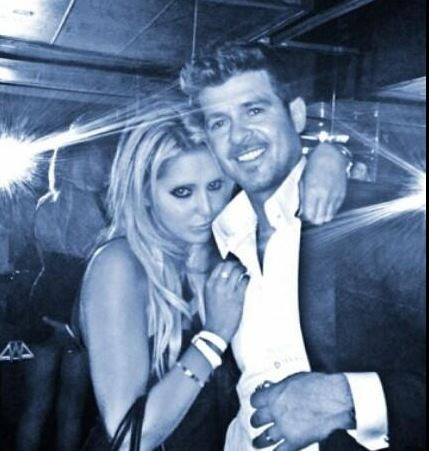 American singer Robin Thicke continues to court controversy, this time without 20-year-old Miley Cyrus, whose lewd "twerking" at the 2013 MTV Video Music Awards (VMAs) earned her widespread criticism and a place in Oxford Dictionaries Online.
The 36-year-old Thicke was photographed groping a woman during the after-party for the VMAs, at a New York nightclub called 1OAK.
The photograph was posted on micro-blogging site Twitter and shared, unfortunately for Thicke, with the singer's wife, actress Paula Patton. The tweet read: "@PaulaPattonXO look at the reflection girl."
The woman in the photograph, identified as Lana Scolaro, confirmed she met the Blurred Lines singer at the event and said she was surprised by all the fuss.
"We have mutual friends in common. I actually met him a week before the after party," she told Celebuzz, "I was actually going over to the DJ booth and he followed me. His security guard took the photo and said, 'you guys make a cute couple.'"
"I knew his hand was on my butt. I posted it on Instagram and didn't notice the reflection. But someone noticed it and commented. I didn't think it would cause this much drama. I didn't know it would be all over everything like this," she added.
There have been no comments on the photograph from either Thicke or his wife. The couple are vacationing in Florida with their three-year-old son Julian.
"They both knew that the mirror was there after taking another picture and he did it as a joke," a source told Hollywood Life, "It was his version of bunny ears - it just looks worse than it really is. But there is no trouble with him and his wife and he isn't cheating."
Mother's Disapproval
Meanwhile, Gloria Loring, Thicke's mother, has criticised her son for his controversial and suggestive duet with Cyrus. The 66-year-old veteran actress and singer said that while she enjoyed the songs, she was disappointed with the former Hannah Montana star's actions.
"I just keep thinking of her mother and father watching this. Oh, Lord, have mercy. ... I was not expecting her to be putting her butt that close to my son. The problem is now I can never 'unsee' it," Loring said.
"I don't understand what Miley Cyrus is trying to do. I just don't understand. I think she's misbegotten in this attempt of hers. And I think it was not beneficial," she concluded.