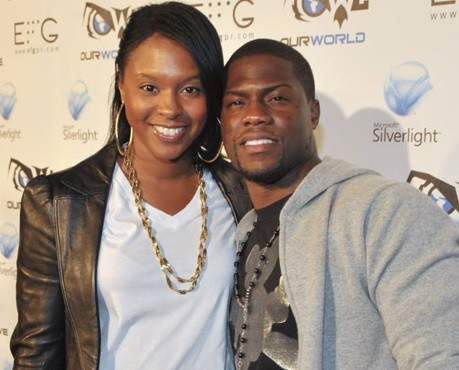 He has made millions making people laugh but there's a good chance that Kevin Hart may struggle to get his ex-wife to crack a smile.
The 33-year-old comedian has been accused of cheating on his former partner Torrei Hart with current girlfriend Eniko Parrish.
According to Torrei, who is the mother of the Ride Along star's two children, Parrish ruined her marriage to the pint-sized superstar.
"It does hurt that my kids have to be around a woman [Eniko] who broke up a marriage," she said during a recent interview with Entertainment Tonight's Rocsi Diaz.
"I was with [Kevin] when he was selling sneakers for five dollars an hour. I was at every show. I was at his first show where he ever did standup ... I was his muse. I was there from the beginning."
Hart married Torrei in 2003 and the couple filed for divorce citing irreconcilable differences in 2010. Torrei who will soon make her reality TV debut on new show, Hollywood Exes Atlanta claims she never opened up about the circumstances surrounding their split out of respect for her family.
"I never lashed out. I never tried to punch her in the face, even though I've had moments where — trust and believe — I wanted to K.O. her ass."
Hart has since taken to social media to deny the claims, insisting his marriage to Torrei ended long before his new relationship started.
He also slammed Torrei for constantly attacking his girlfriend of five years.
But Torrei insisted that Hart was and is still lying to his fans.
"Our divorce was finalised two years ago and we were only separated 8 months prior to the divorce," she responded in an open letter. "Despite what @kevinhart4real has said and the time frames he is trying to establish Eniko Parrish @neekibaby was his mistress and was one of the reasons that broke up my family. I have more proof but Kevin should just be honest for both of our healing."
And the mudslinging continues.