How could 2017 not be a weird year when Donald Trump, a reality TV star and businessman who has been accused of sexual misconduct against more than a dozen women, started it off by becoming president?
Trump has tweeted his way through his first year of presidency, the most ridiculous example of which coming at 12.06am on 31 May. He simply wrote: "Despite the constant negative press covfefe." The tweet stayed up for six hours, before Trump deleted it and replaced it with: "Who can figure out the true meaning of 'covfefe' ??? Enjoy!"
The internet went crazy trying to guess what "covfefe" might mean. Some suggested the president may have had a stroke mid-tweet, while others made up their own totally sarcastic uses for the word.
"New York's hottest nightclub is #Covfefe". It has everything: Russian entanglements, spray tans, creepy handshakes, surprise trade wars", one Twitter user wrote. Another tweeted: "The best part of waking up is #covfefe in your cup."
Could you imagine a US president writing that tweet a year ago? No, we didn't think so. Here are some other bizarre things that happened in 2017.
Hairdresser creates incredible Donald Trump portrait on customer's head
Speaking of Trump, a hair salon in Taiwan actually offers their services to give you a "hair tattoo" of The Donald, with an amazing likeness of his face and his bright yellow hair and eyebrows.
The haircut left many shocked, wondering why anyone would want Trump's face on the back of their head, but that client was clearly a big fan.
Theresa May's disastrous Conservative party conference speech
Prime Minister Theresa May gave what may be the most calamitous speech in British politics in what was not an easy year for her as leader of the UK. Her Conservative party conference speech was marred by not one, not two, but three memorable incidents.
Firstly, she was handed a fake P45 form, usually given by an employer as an employee leaves their job, by comedian Simon Brodkin aka Lee Nelson. Then she lost her voice, had a huge coughing fit and ended up being handed cough sweets by Chancellor Philip Hammond. Finally, the party's motto on the wall – "building a country that works for everyone" – began falling to the floor letter by letter.
No one could quite believe how disastrous the speech ended up being – and that's even without taking any policies into account.
YouTuber cements head into microwave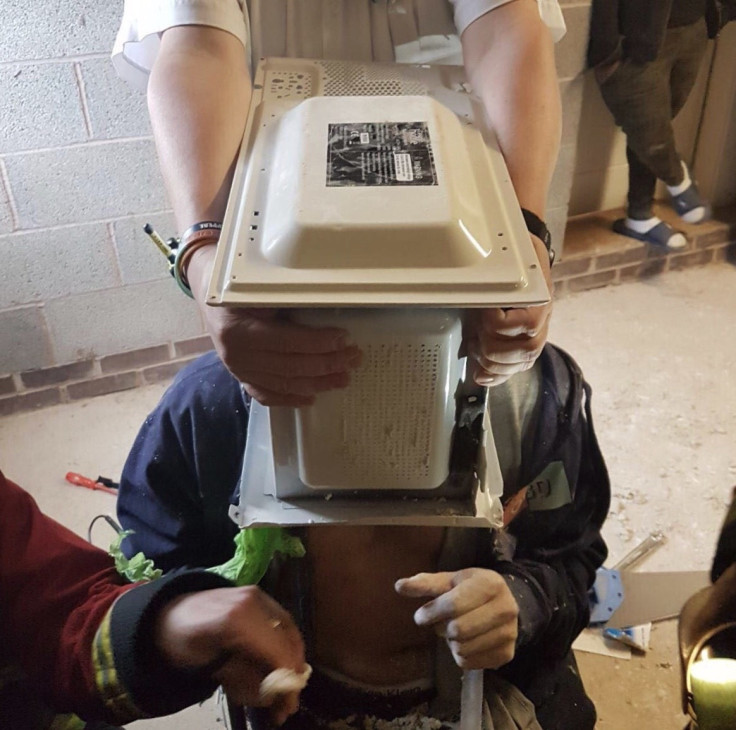 An internet prankster needed the help of the fire service to escape when he cemented his head into a microwave oven. Jay Swingler put his head in a plastic bag inside the microwave, before his friends poured seven bags of Polyfilla inside, but he soon became trapped and his friends were unable to free him for 90 minutes. The group involved were all "very apologetic," according to West Midlands Fire Service.
After the bizarre stunt went viral, Swingler offered to pay the £650 cost of five firefighters spending an hour freeing him. He said in a YouTube video: "I'm more than happy to donate my money to the people who helped me that day. I should be fined just like the people who get into drunken fights and use the emergency services' time."
Czech tourists arrested in Kazakhstan for wearing 'indecent' Borat-style mankinis
A group of six Czech tourists were arrested in Kazakhstan after wearing revealing swimsuits, otherwise known as mankinis, made famous by Sacha Baron Cohen in the film Borat. The film – full name Borat! Cultural Learnings of America for Make Benefit Glorious Nation of Kazakhstan – was banned in the country following its 2006 release.
The men were charged with a public order offence and each fined 22,500 Tenge ($67; £51). Baron Cohen later offered to pay the fine for them. He posted on Facebook: "To my Czech mates who were arrested. Send me your details and proof that it was you, and I'll pay your fine."
Greggs apologises for replacing baby Jesus with sausage roll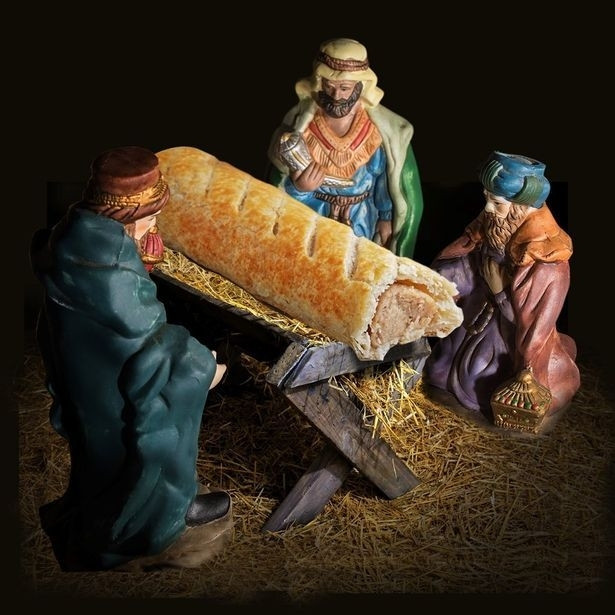 In strange British news which went global, bakery chain Greggs was forced to apologise after releasing its first ever advent calendar and replacing the baby Jesus with a sausage roll.
The advent calendar contained vouchers for customers to take into store and claim savings of up to £40. Greggs said: "24 days of Greggs? Ho ho HECK YES. Pick up our advent calendar in selected shops from 20th Nov and countdown to the big day in style!"
But, although the internet was swept with excitement, it did not take long for the outrage to emerge. One example tweet said: "Please boycott @GreggsOfficial to protest against its sick anti-Christian Advent Calendar. What cowards these people are: we all know that they would never dare insult other religions! They should donate every penny of their profits to @salvationarmyuk."
A Greggs spokesperson said: "We're really sorry to have caused any offence, this was never our intention."
Watch the moment a black bear broke into a home to play the piano
What would you expect to happen if a black bear broke into your home? A violent rampage, breaking all your furniture? A binge-eating spree through the kitchen? Or a quick tinkle of the ivories?
This bear went viral after broke into a family home and ransacked several rooms, before stopping to play a very eerie chord while on his hind legs. The Colorado family involved were surprised when they reviewed the security footage to discover their home was broken into by a bear, not a burglar.
Even more hilariously, Alaskan newspaper Anchorage Daily News ran the story with the headline "Bear breaks into Colorado house, plays the piano but not very well," prompting countless responses questioning why they appeared to be judging the animal's music skills. One Twitter user said: "Have YOU ever tried to play piano with bear paws?"
Cristiano Ronaldo's new statue turns heads – for all of the wrong reasons
This isn't quite what you'd expect to happen when an airport is named after a top international footballer. The Aeroporto da Madeira in Cristiano Ronaldo's hometown was renamed with a grand ceremony in March, but a statue of the Real Madrid player did not exactly meet expectations.
The Portuguese star earns $32m (£25m) a year from modelling deals for brands such as Nike, Armani and Tag Heuer, yet the statue's resemblance is so tenuous that some even thought it looked more like former Republic of Ireland captain Niall Quinn. It's fair to say that everyone who saw the statue went into meltdown in hysterical disbelief.