"Varun Dhawan is the next Bollywood superstar." At least, that's what they're saying on Twitter. Fans of the star have been circulating the hashtag relentlessly on social media. Pitted against his contemporaries, Dhawan comes out on top as the most likely candidate to achieve superstardom.
He certainly seems to have all the attributes that are the hallmarks of a major movie star in the making, including his obvious good looks which make him a poster boy for love-struck teens and causes grown women to go weak at the knees. Add his natural talent as a dancer and an unmistakable appeal to the masses into the mix and Dhawan could well be the next superstar of Indian cinema.
It bodes well then, that he has been gaining a tutelage in stardom from the biggest star of them all, Shah Rukh Khan. Dhawan shares screen space with the actor in Dilwale, in which he plays Khan's younger brother, a move that almost sets him up as "the next in line". As they go on the worldwide promotional trail, he is afforded a vivid insight into what life would be like as a global superstar. Fame is a double edged sword and it comes at a price, but with a sensible head on his shoulders, Dhawan doesn't appear to buy into the hoopla that surrounds him. Instead, he remains focused on learning the craft of acting.
In an interview with IBTimes UK during the London leg of the promotions of Dilwale, he explains: "I've been told you're playing in the big leagues now. All eyes will be on you, more so because of Shah Rukh Khan and Kajol, but for me from day one it's been about one thing. It's been about acting. So I have to keep evolving. I have to keep changing with my roles. The performance in Main Tera Hero was very different to Dilwale. It really matters to me that I'm not copying myself. I want to go out there and I want to give my 500% every time."
Dhawan made his entry into films with the frothy, frivolous college romance Student of the Year. Defying expectations with a startling display of histrionics in the revenge thriller Badalpur, he demonstrated his acting range. But comedy has been his forte and to engage a mass audience seeking escapism, comic timing is imperative.
"That's why I'm so excited to be part of Dilwale," he says. "Rohit Shetty has been known for his brand of comedy so after Main Tera Hero I'm getting that chance to get that platform to do comedy and on this large scale. I had to polish my skills, I had to come up with a better performance."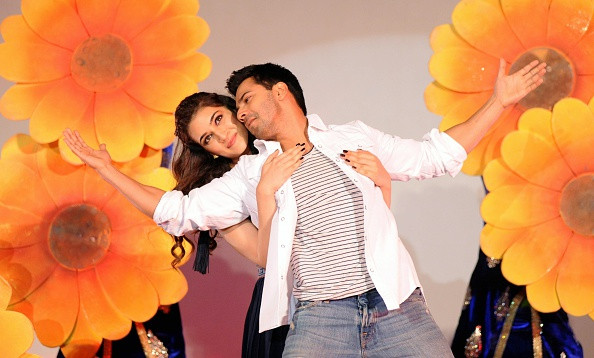 What separates the everyday actor from the supernova is star quality. Shah Rukh Khan reeks of it. Call it charisma, allure, or magnetism; whatever it is, that means you cannot take your eyes off him. Shah Rukh Khan has it in abundance and exudes it effortlessly. A steely look, a half smile and you are floored.
So perfectly preened as they are, Kriti and Varun look like they have been through the star-making mill and appear before you as if they have stepped straight out of their glossy poster. But crossing time-zones, being deprived of sleep and sustenance, never-ending days of back-to-back interviews, dancing at cinemas and malls for marauding fans - that is the reality of being a star. And we haven't even considered the aftermath of quotes being misinterpreted and misreported and the subsequent unholy reaction on Twitter that a celebrity has to face.
It's a rare person who can handle the rigours of fame. Shah Rukh Khan is an exception, who wears his stardom so well it's like a second skin and he revels in every aspect of it. Already, Varun and Kriti handle it mostly, with uncommon ease.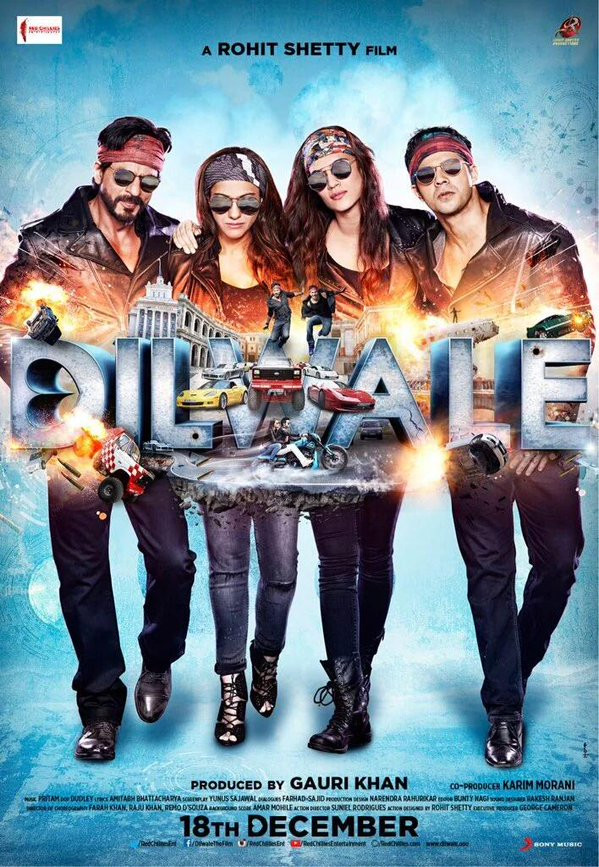 With the scale of Dilwale, the trajectory of their careers will inevitably change and the realisation of what is to come is dawning on them. "There are pros and cons in everything," explains Sanon. "The more successful you become the more known you become, everything you say is minutely scrutinised a lot. You really have to think a lot before speaking and the things that are written about you sometimes you might not like it.
"But at the end of it, you can't stop being yourself because if you start faking, to what extent are you faking everything? You have to be really emotionally strong which right now at this point I don't think I am. I think I'm someone you would really break down easily so I have to work on that," she says with disarming honesty.
"I don't think I would break down as such, but I do think I need to think about what I say. Now I'm seeing myself change," admits Dhawan. "It's scary. There are so many controversies that come up. Where an actor has this stature, its scary. It's not easy. You think about it and how you're going to handle it. I have a tendency of saying anything I'm thinking in that moment. But what's the point in the interview if I don't answer honestly? I'm realising the sense of responsibility that comes with this position."
Dhawan had a taste of the excesses of fame after Main Tera Hero, in a shirtless, comic incarnation that drew comparisons with Salman Khan. But that was just a drop in the ocean compared to Dilwale. Being part of a Shah Rukh Khan film will take Varun Dhawan directly to a global Indian audience on the biggest platform possible.
The pair takes inspiration from Shah Rukh, who at the age of 50 shows no signs of waning, driven by his passion for cinema and his dedication to his fans. "There's so many things that make him a superstar," explains Dhawan. "He's a wonderful human being, he's superb with media, he's superb with the people, but in saying that somewhere we're insulting the fact that he's a damn good actor."
Few people can ever hope to emulate the star status of Shah Rukh Khan. An entirely self-made man he has forged a place in history all his own. Destiny prescribed it and through his own hard work and determination, he fulfilled the call of fate. It's the kind of a megastardom that happens only once in a generation.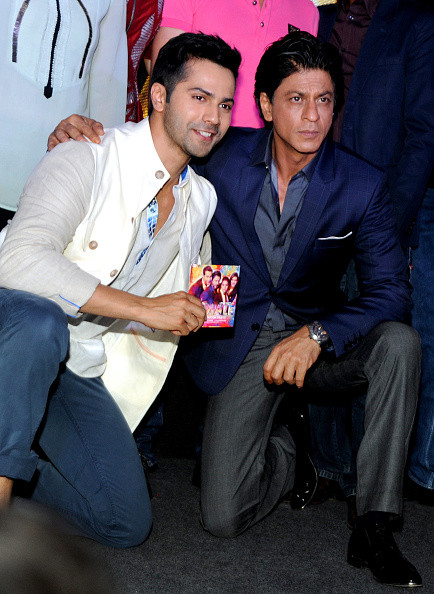 But just as Baazigar spawned an unlikely romantic pairing and a new superstar, twenty-two years ago, Dilwale too, could mark the beginnings of a new romantic pairing for a generation and with it we could be witnessing the birth of a superstar, of a very modern kind.
Varun Dhawan and Kriti Sanon are the future stars of Indian cinema. Whether they are destined to be superstars will become apparent in time. And whether fame becomes a curse or a blessing depends very much on how they receive it and whether they have the mental and emotional wherewithal to withstand the rigours of life in the public eye.
In the meantime, they both have the benefit of a direct line to a man who knows a lot about being the biggest superstar in the world.
Diwale releases worldwide on 18 December. Watch Varun Dhawan and Kriti Sanon in the song Manma Emotion Jaage from Dilwale below: