Donald Trump says social media 'helped' him win the election, promises to be restrained on Twitter
Donald Trump said social media is a 'modern form of communication' that played a key role in his historic victory.
President-elect Donald Trump has weighed in on the power of social media over the course of the campaign, crediting platforms such as Facebook and Twitter as key elements that helped him win the presidential election. In an interview with CBS' Leslie Stahl on "60 Minutes", Trump said social media is a "modern form of communication" that played a key role in his historic election victory.
"The fact that I have such power in terms of numbers with Facebook, Twitter, Instagram, etc., I think it helped me win all of these races where they're spending much more than I spent," Trump said. "And I won. I think that social media has more power than the money they spent, and I think maybe to a certain extent, I proved that."
Trump added he has more than 28 million followers across different social media platforms - a figure that has been consistently growing since his win. He also praised social media as an effective way to fight back against traditional media outlets.
"It's a great form of communication," Trump said. "I'm not saying I love it, but it does get the word out. When you give me a bad story or when you give me an inaccurate story or when somebody other than you and another - a network or whatever, because of course, CBS would never do a thing like that? I have a method of fighting back."
Just days before Election Day, the New York Times reported that Trump's campaign staffers had taken control of his Twitter account which he used to "colourfully - and often counterproductively - savage his rivals" and take away "a previously unfiltered channel for his aggressions".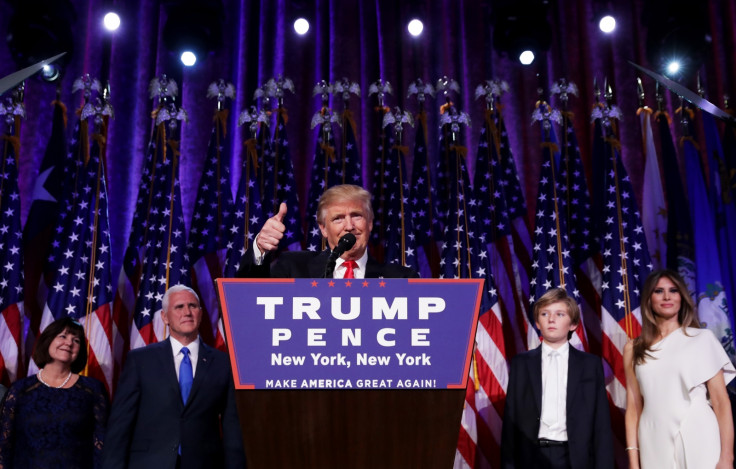 However, Trump has vowed that he will be "restrained" with his use of social media as president.
"I'm going to be very restrained, if I use it at all, I'm going to be very restrained," Trump said, adding that there "should be nothing we should be ashamed of" in using social media.
During the race to the White House, Trump drew criticism for his controversial tweets targeting his rivals as well as a 3am Twitter tirade in September during which he targeted former Miss Universe Contestant Alicia Machado.
On Friday (11 November), Trump posted a controversial tweet in response to the ongoing anti-Trump protests taking place in various cities across the nation, saying it was "unfair" that "professional" protesters "incited by the media" were protesting against his win.
He later pulled back in a tweet the next day that read: "Love the fact that the small groups of protesters last night have passion for our great country. We will all come together and be proud!"
On Sunday, Trump slammed the New York Times on Twitter for their "very poor and highly inaccurate coverage of the 'Trump phenomena'".
Meanwhile, chief executive Mark Zuckerberg has continued to vehemently defend Facebook against accusations that fake news on the platform could have influenced the outcome of the election.
"Of all the content on Facebook, more than 99% of what people see is authentic," adding that he was proud of his company's role in giving people a voice during the election.
"We helped more than 2 million people register to vote, and based on our estimates we got a similar number of people to vote who might have stayed home otherwise," Zuckerberg said. "We helped millions of people connect with candidates so they could hear from them directly and be better informed.
"Most importantly, we gave tens of millions of people tools to share billions of posts and reactions about this election. A lot of that dialogue may not have happened without Facebook."
© Copyright IBTimes 2023. All rights reserved.