Anti-Trump protests in US stretch into fifth day
Demonstrations were largely peaceful but protesters continued to be vocal against Trump over immigration.
Protests against Donald Trump's surprise election victory entered the fifth straight day on Sunday, 13 November. Demonstrators, largely immigrants and their advocates, are opposing a Trump presidency because of the president-elect's support for deportation and other contentious issues.
In Manhattan, protesters, numbering more than 1,000, carried placards in English and Spanish with messages such as "Hate won't make us great", and chanted, "We are here to stay".
"The main purpose is to tell Donald Trump he can't just deport 11 million undocumented people," CNN quoted a demonstrator and an immigration lawyer, Noelle Yasso, as saying. "They're here to stay and we stand in solidarity with them."
She said the immigrants were terrified of the actions that Trump might take against them once he assumes office in January.
"They're saying, 'Are we going to be deported tomorrow?'" she said. "People don't know what will happen and they're very scared."
Washington, San Francisco New York, Los Angeles and Philadelphia among other cities too braced for more public demonstrations. One group was said to be planning a huge Million Woman March in Washington on 21 January, the day after Trump is inaugurated, according to the Associated Press.
CNN reported that around 100 people gathered outside its building in Los Angeles and held a peaceful protest.
Daniel Hayman, a 31-year-old protestor in New York, said his fellow demonstrators were reclaiming what the American flag stood for.
"The flag means freedom of speech, freedom of religion, equal protection under the law and other values like diversity, respecting differences, freedom of assembly and freedom of the press," Reuters quoted him as saying. "We're trying to reclaim the flag and push forward those values."
In California, around 800 people marched through Sacramento and thousands of others were reported to have formed a human chain around Oakland's Lake Merritt. Some unruly protests were observed in the region at times, but people were largely just reported to have chanted, "We reject the president-elect."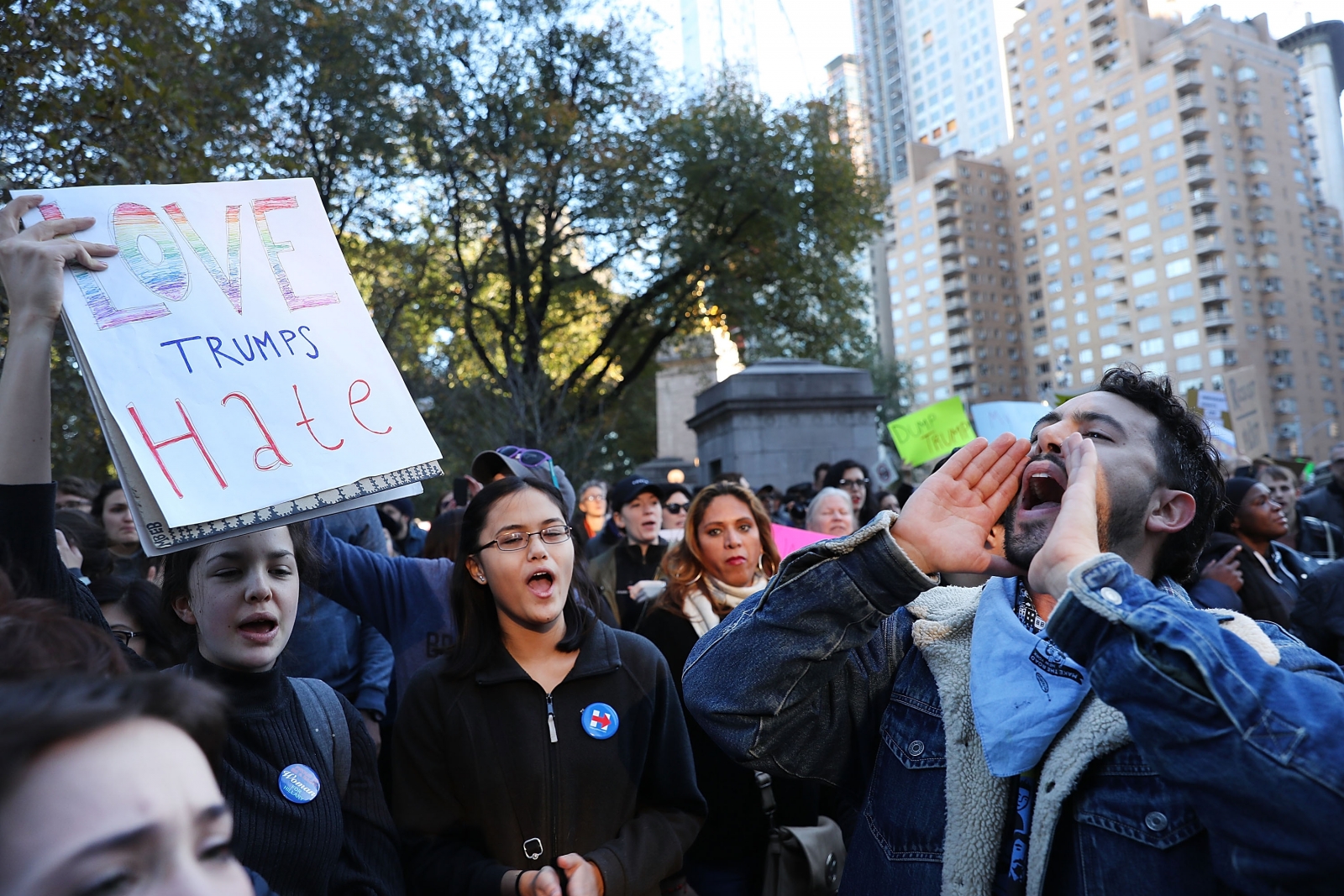 Early on Sunday morning, 71 people were arrested in Portland, Oregon, following the fourth night of protests on Saturday (12 November). According to reports, police had to resort to flash grenades and tear gas to subdue the demonstrators.
The anti-trump protest is reported to have crossed the border into Canada as Toronto witnessed its first major rally on Sunday.
The protesters have all decried Trump's often provocative campaign rhetoric about illegal immigrants, Muslims, the LGBTQ community, women and abortion law.
Kellyanne Conway, Trump's campaign manager, has called President Barack Obama and Clinton to do more to support a peaceful transition.
"It's time really for President Obama and Secretary Clinton to say to these protesters: 'This man is our president,'" she said.