US President Donald Trump has voiced his opinion on the latest happenings in showbiz this week as he took aim at pop singer Madonna and Saturday Night Live (SNL) writer Katie Rich.
Trump's jibes came during an interview with Fox's Sean Hannity on Thursday (26 January), where he discussed Madonna's speech at the Women's March.
The 58-year-old singer spoke about how anger is not the answer and drew much controversy from her words. At one point, she said: "Yes, I have thought an awful thought about blowing up the White House."
Unimpressed by the Holiday hitmaker's comments, Trump told the host: "Honestly, she's disgusting. I think she hurt herself very badly. I think she hurt that whole cause," Trump said of her rant.
"I thought her and a couple of others. But I thought she was in particular, I thought what she said was disgraceful to our country."
Trump also slammed SNL writer Rich for her distasteful joke about his 10-year-old son Barron, in which she was later accused of cyberbullying.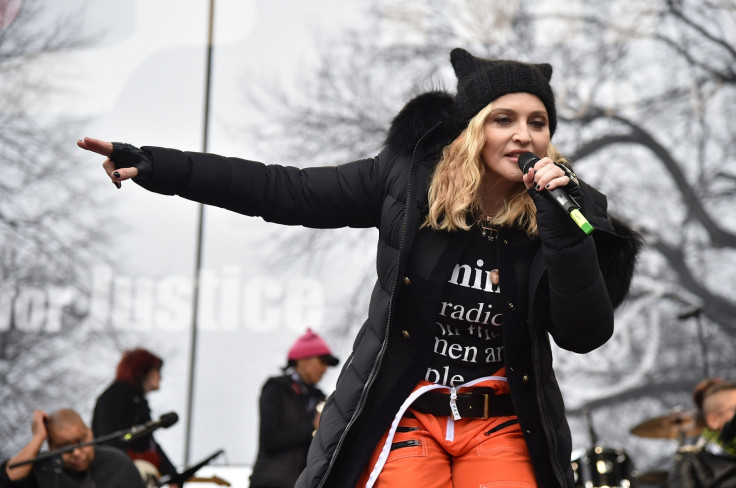 Trump claimed that though he is not against humour, he felt the joke was despicable as he expressed his feelings during his second interview since officially becoming the US president.
He continued: "I don't mind some humour but it's terrible. For them to attack, for NBC to attack my 10-year-old son... it's a disgrace. He's a great boy. And it's not an easy thing for him. Believe me."
Rich was suspended indefinitely from her role at the NBC show following her controversial tweet about the president's youngest son. After no one laughed with the SNL writer over the joke, whereby she declared that "Barron will be this country's first homeschool shooter" during Trump's inauguration, she expressed regret over the tweet, describing her actions as "irresponsible".
The comedy writer received so much backlash on the social media sharing site that she suspended her account after deleting the post, but returned to the platform on Monday.
She then tweeted: "I sincerely apologize for the insensitive tweet. I deeply regret my actions and offensive words. It was inexcusable & I'm so sorry."