An Ukrainian artist who portrayed a caricature of feared pro-Russian separatist leader Igor Girkin "Strelkov" on the walls of rebel-held Donetsk has been kidnapped in the eastern Ukrainian city, according to local reports.
Sergei Zakharov, author of the Murzilki art project, was abducted by unidentified men in uniforms carrying badges of the self-proclaimed Donetsk People's Republic (DNR). "He was taken to an unknown destination. We haven't been able to contact him. If anyone has any ideas about a possible release, please write to me in private," the spokesman of the group Sergei Mzurkiewicz said on his Facebook page.
Zakharov became widely known in Donetsk for his art installation mocking pro-Russian militants. In his first action, on 11 July, the artist placed a plywood cut shape of the character of the novel Heart of a Dog by Mikhail Bulgakov wearing a DNR uniform.
Another installation portrayed a caricature of pro-Russian commander Arsen Pavlov, who goes by the call sign Motorola, depicted as a devil during the recent wedding with his wife.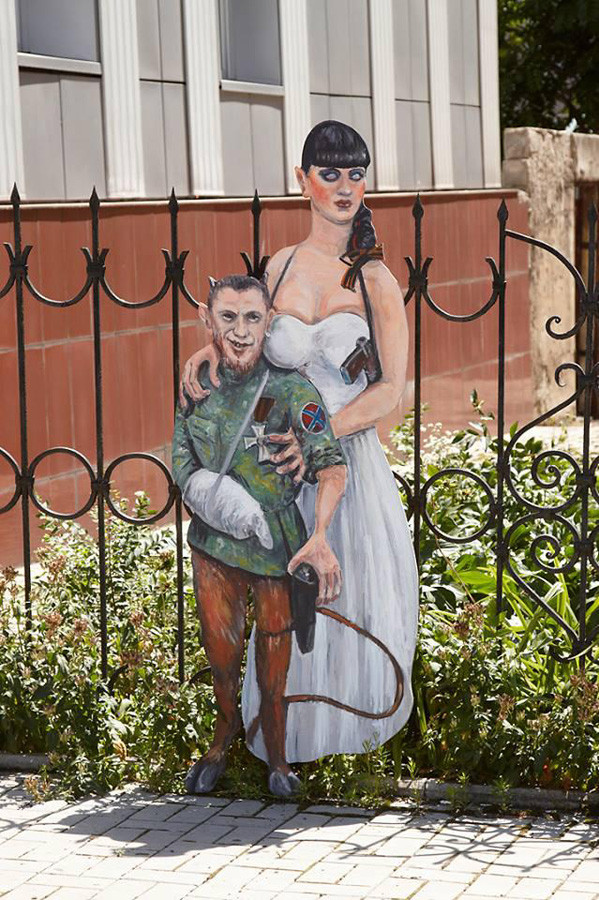 Pictures of the wedding, which included the self-proclaimed governor of Donetsk, Pavel Gubarev, went viral in July and featured Motorola dressed in battle uniform sporting a broken arm. But it is the third installation that might have caused Zakharov trouble.
On the wall of the Komsomolets cinema in Donetsk, the artist attached a caricature of Igor Strelkov with a revolver to his head and the caption "Just do it!"
The brother of the artist Andrei Zakharov said the kidnapping took place overnight. According to a neighbour's account: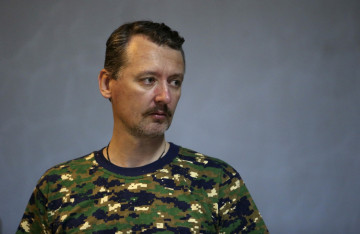 "Four armed men with the DNR identification marks were taking Sergei out of the house. They were also carrying his laptop and a box - most likely it was a box with flyers for future actions. The neighbour asked them why are taking him and to where, but the terrorists claimed they were a rapid response team, and didn't know the details. They were told to get him - and that's what they're doing. "
Strelkov is a veteran of both the Soviet and Russian armies and has been described as a covert agent of Russia's GRU military intelligence.
He has declared himself Minister of Defence of the self-proclaimed Donetsk People's Republic and was charged by Ukraine authorities with terrorism for acts during the current conflict. The commander has been called "one of the most powerful separatist figures in eastern Ukraine" and is a suspect for the downing of the Malaysian Airlines MH17.
An IBTimes UK investigation showed that the charismatic Russian separatist leader was involved in the bloody Bosnian war of the early 1990s.