More than 60 people are feared dead after a boat carrying Rohingya Muslims fleeing Myanmar capsized. The International Organisation for Migration (IOM) said 23 people were confirmed dead and another 40 are missing "and presumed drowned".
The boat capsized off the coasts of Bangladesh, in the Bay of Bengal in the evening of 28 September.
The Rohingya have been dubbed as one of the world's most persecuted ethnic minorities. They live in segregated conditions in the Buddhist-majority Myanmar, also known as Burma, where they are regarded as stateless people and unwelcome migrants from Bangladesh. They routinely flee the country to escape alleged persecution from the state.
The IOM's remarks came as the UN Security Council met to discuss the ongoing humanitarian crisis.
More than 500,000 ethnic Rohingya have fled to neighbouring Bangladesh to escape a military operation that the UN says may amount to ethnic cleansing.
The latest exodus was sparked following attacks by Rohingya insurgents that killed at least 12 people in Rakhine state. The military retaliated in what was described as "clearance operations" to identify and root out any fighters found in villages across Rakhine.
"The situation has spiralled into the world's fastest developing refugee emergency and a humanitarian and human rights nightmare," UN Secretary General Antonio Guterres told the council on 28 September.
Guterres called on Myanmar to halt its military operation and allow humanitarian access in the country. He added that survivors who fled to Bangladesh said they had been subjected to attacks including "indiscriminate firing of weapons, the presence of landmines, and sexual violence".
Noting that another 250,000 Muslims could face displacement in central Rakhine, he warned that violence could also result in radicalisation of vulnerable people.
"We should not be surprised if decades of discrimination and double standards in treatment of the Rohingya create openings for radicalisation," Guterres said.
Reporters who were allowed to venture into Rakhine state took aerial photos that showed burned villages in the region. New York-based Human Rights Watch (HRW) said tens of thousands of homes in northern Rakhine have been destroyed across 214 villages.
Humanitarian crisis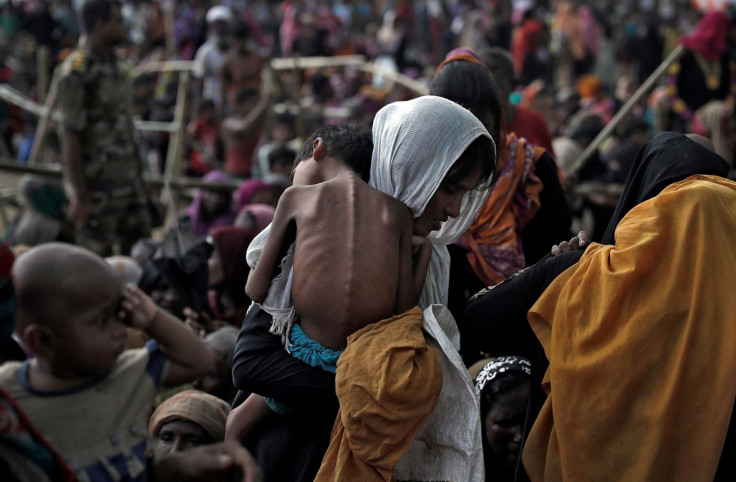 Bengali ambassador Masud Bin Momen said his country is currently hosting more than 900,000 displaced Rohingya, and the number is set to increase.
International children charity World Vision launched an appeal on 29 September to support more than 225,000 children in refugee settlement across Bangladesh. The charity said refugees are in need of basic services and lack food and water. Children also face mental health issues, exploitation and abuse.
"We appeal to the international community worldwide to urgently scale up its response to this refugee crisis, which is less than half funded. Because of the shortfall, we are unable to meet children's basic needs," Fred Witteveen, World Vision's National Director in Bangladesh, said.
"These children need shelter, food, clean water, toilets and medical care to treat acute injuries. The funding we receive will also go towards developing our child-friendly spaces – where children can play, learn and start a journey towards healing. Many of them have witnessed gruesome violence, and it is vital we urgently address this trauma."
'No genocide'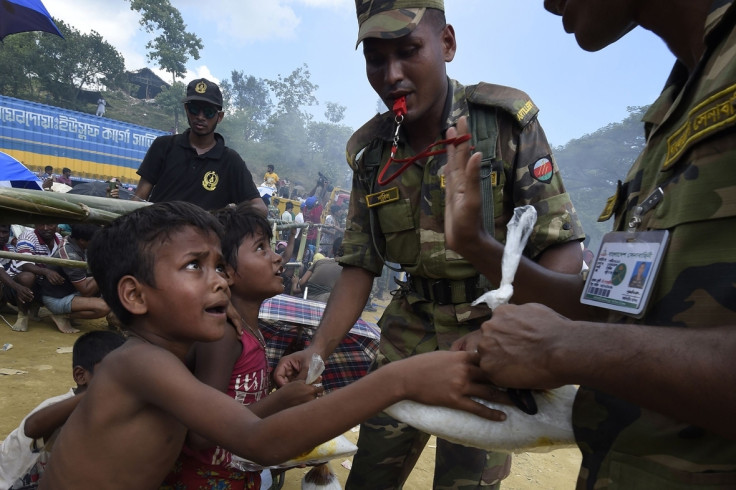 Myanmar's National Security Advisor, U Thaung Tun, denied that a genocide is taking place in his country, where authorities "have been struggling so long for freedom and human rights".
He said reports of crimes in Northern Rakhine State were "subjective and emotionally charged accounts". Tun blamed the ongoing situation on terrorism and not religious tensions.
"What is little known is that the vast majority of Muslims did not abandon their hearth and home," he added. "While there has been an exodus, more than 50% of the Muslim villages in northern Rakhine remain intact."
Aung San Suu Kyi, Myanmar's de facto leader, had been widely condemned for her prolonged silence on the crisis.
In her first address on the situation earlier in September, the leader condemned human rights abuses, but failed to address UN accusations of ethnic cleansing.
In her speech, Suu Kyi did not use the word "Rohingya". She later explained she thought it was too "emotive" and "highly charged" for an already affected population.
"There has been a lot of controversy with regard to the term used to describe the Muslims in Rakhine as there are those who want to call themselves as Rohingyas or who want to refer to the Muslims there as Rohingyas. There are those who want to call themselves as just Bengalis, which are not ethnic Rakhine," she told ANI news agency in Myanmar's Naypyitaw in an interview.