At least 42 people, including 14 children and 13 women, are known to have died in a horrific coach crash in Pakistan. Another 17 were injured, some of them critically. The deadly accident happened when the Karachi-bound bus on which they were travelling from Dera Ghazi Khan collided with a tractor-trailer near the town of Sukkur, 290 miles (467km) north of Karachi.
The bus was horrifically mangled in the crash, with eye-witnesses describing survivors begging to be freed. Police official Muhammad Faisal said the bus had been trying to overtake the tractor but lost control.
"Most of the passengers were trapped between their seats, we rescued them by cutting the bus body with metal cutters."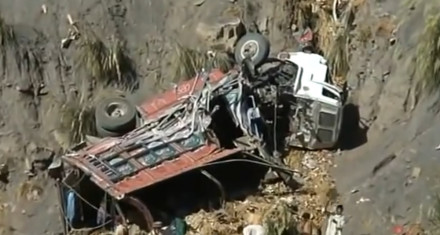 All the dead were apparently in the mangled bus, including six members of a family of 10 who were on their way to Karachi to visit relatives. Of the other four members of the family two were injured.
One of the two who was uninjured, 18-year-old Maryam Bibi, said: "We were 10 members of one family, six of them died and two were injured."
According to Sukkur police, the driver of the bus also died, though the tractor driver survived. His injuries are not yet known.
One passenger said the delay in the arrival of emergency services probably contributed to the high death toll, telling TV station Samaa TV: "No administrative official reached the spot on time, those who were badly trapped into the bus could not be pulled out immediately."
Thousands of people are killed and injured every year on Pakistan's badly maintained roads, with police estimating 90% of accidents are caused by human error.
Earlier this month, 16 people died when a truck overturned into a ravine in the Punjab. Last month, 35 people were killed, many of them burning to death, when their coaches collided with each other and a petrol tanker near Gadani.