At least 24 people have been reportedly killed and four others are missing as torrential rains triggered massive flooding in central Vietnam. Disaster officials said on Monday (17 October) that the situation could get worse as Typhoon Sarika is moving towards four central provinces after battering the Philippines.
Eighteen of the victims are from the worst-hit province of Quang Binh and authorities are searching for three people missing from the area. According to media reports, crops have been badly affected and livestock have been swept away in the flood waters.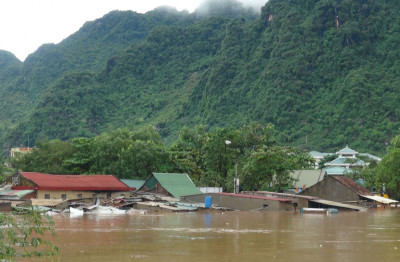 Disaster official Tran Le Dang Hung said that six people were killed and one was missing in three other central provinces. "We are worried. We have instructed district governments to outline plans for evacuating people from high-risk areas to cope with the Typhoon," Tran was quoted as saying by Associated Press.
The heavy downpour began late last week and has barely eased since then bringing about 300mm to 900mm of rain in the past few days, according to Vietnam's weather bureau. Tens of thousands of homes have also been inundated. Several roads and railway lines were also damaged due to the floods.
Up to 90cm (3ft) of heavy rains were recorded in Quang Binh on 14 and 15 October leaving 125,000 homes submerged in the region, Tran said.
Local media reports claimed that the flooding could have worsened as more water was released from hydropower reservoirs.
"The dam operators should have informed locals properly in advance," an official was quoted as saying by VnExpress. He added that the discharge led to a significant rise in water levels.