Dramatic footage captures Syrian rescue worker breaking down in tears as he frees baby from rubble
The month-old baby was buried under the rubble of a building following airstrikes in Idlib.
Dramatic footage has emerged of a rescue worker breaking down in tears as he frees a baby girl buried under the rubble of a bombed building in Idlib. Earlier, rescue workers were filmed as they desperately searched through the remains of a building to find the toddler, who was only one month old.
The worker said: "We have been working for two or three hours, God willing. One month, she is one month old. Oh God, two hours of work, this is it. It's 30 days old."
Thankfully, they found her alive, though with blood on her head as a result of injury and covered in dust. In the emotive footage, the tearful worker is seen cradling the child close in his arms, the sense of relief at finding her alive written all over his face.
The child was taken by ambulance to hospital amid chaotic scenes, as a medic attended to her.
The footage left BBC newsreader Kate Silverton in tears live on air, as she reported the story of the rescue worker's heroism.
With tears still running down her face, she continued reporting the next item, according to Mail Online. Her display of emotion moved viewers, who were similarly touched by the video capturing the dramatic rescue of the baby.
One viewer tweeted: "[D]emonstrating utmost poise & professionalism following an extremely distressing piece on Syria. Kudos, Kate."
Responding to the messages of support, Silverton later tweeted: 'To all of you sending thoughts - thank you - no words really - my job to be inscrutable & impartial but I am also human."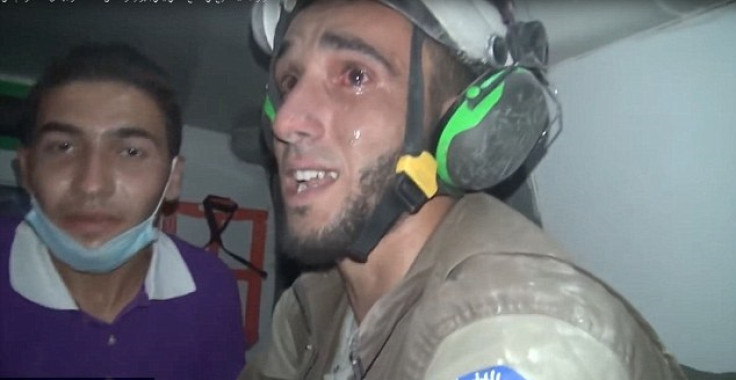 On Thursday (29 September) Idlib and the town of Jarjanaz were targeted in air raids that left 11 people dead, including 7 children, according to the UK-based Syrian Observatory for Human Rights.
The Russian air campaign against Syrian rebels has killed 3,800 civilians in the past year, as well as more than 5,500 jihadist and insurgents in a 'barbarous' and relentless bombing campaign on Syria in support of President Bashar al-Assad, Sky News reports.
'Bombs are raining from Syria-led coalition planes and the whole of east Aleppo has become a giant kill box,' Doctors Without Borders (MSF) director of operations Xisco Villalonga said on Friday.
The aid charity has appealed to the Syrian government and Russia to stop bombing rebel-held eastern Aleppo, warning of the 'bloodbath' that will result as more civilian lives are lost.
© Copyright IBTimes 2023. All rights reserved.