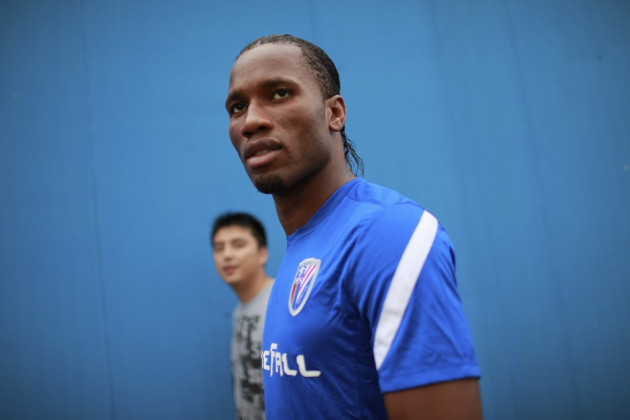 Former Chelsea star Didier Drogba denied he was among 62 footballers who signed a pro-Palestine petition protesting against Uefa's European under-21 championship games in Israel.
His name is listed alongside that of the Premier League's Eden Hazard, Demba Ba Papiss Cissé, Abou Diaby and many other football stars, on the official website of former Tottenham striker Frederic Kanoute, who promoted the petition.
But Drogba said: "I have not signed the petition and didn't give my support to this initiative because I never took sides, even in my country, the Ivory Coast, in any conflict.
"My goal has always been to work for reconciliation, but also to try to fight against all forms of injustice and discrimination.
Both Drogba and Kanoute now play in China, respectively for Shanghai Shenhua and Beijin Guoan.
The petition called for Israel to be stripped of the Uefa competition following violent events in Gaza in November.
"We, as European football players, express our solidarity with the people of Gaza who are living under siege and denied basic human dignity and freedom," a statement accompanying the list reads.
"The latest Israeli bombardment of Gaza, resulting in the death of over 100 civilians, was yet another stain on the world's conscience."
The subscribers also criticised Israel's bombardment of a football stadium in Gaza, in which four teenage players were killed.
"It is unacceptable that children are killed while they play football. Israel hosting the Uefa Under-21 European Championship, in these circumstances, will be seen as a reward for actions that are contrary to sporting values," the petition reads.
The European Under-21 Championship is to be hosted in Tel Aviv next June. England is up against seven other nations including Italy, Spain, Germany and Israel.
Earlier this year Uefa president Michel Platini rebutted calls to move the completion elsewhere.
"Uefa is an apolitical organisation and [Israel] earned the right to host this competition through a fair, democratic vote," Platini said.
World football's governing body, Fifa, pledged to rebuild the bombed stadium in Gaza.
"We see it as our mandate to rebuild football infrastructure which has been destroyed," secretary general Jerome Valcke said.
"Football brings people together and we will support any reconstruction necessary when football infrastructure is destroyed through disasters."