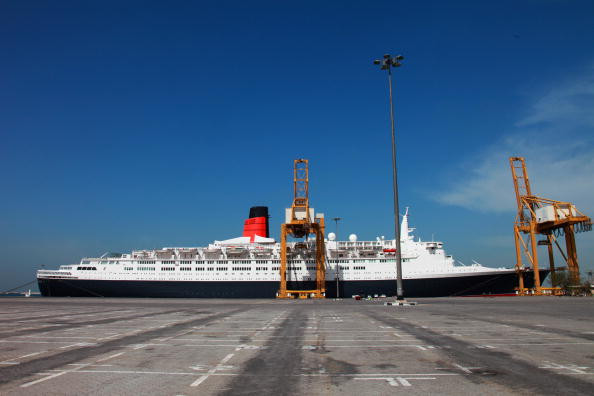 Fans and former employees of the QE2 will be shocked by new images of the iconic ocean liner, which reveal that the historic vessel has been left to "rot away" in Dubai's Port Rashid.
According to Arabian Business, disappointed fans have contacted the news agency in Dubai and sent photos of staff members' barbequing a pig on QE2's outside deck.
The cruise ship, that was once visited by world leaders, celebrities, kings and queens, was due to undergo a major refurbishment, as announced by the Dubai-based owner of the liner, is now "rotting" away said Rod Fair, a former engineer on the QE2.
Speaking to Arabian Business, Fair said: "I cannot for the life of me understand why this magnificent ship is sitting there rotting, and costing somebody a fortune, when it could well be elsewhere being useful."
QE2 Holdings had earlier said in a statement in October that COSCO Shipyard Group in the Zhejiang Province in China will transform the existing 990 staterooms in the liner into 400 premium suites by 2015.
Khamis Juma Buamim, chairman of QE2 Holdings, had said that there were "fantastic" plans for the liner and all the necessary funding had been secured to rebrand it into a hotel to be based in Asia.
Marc-Antoine Bombail who has written several books on the QE2 expressed his frustration saying: "The Queen Elizabeth 2 has to be preserved for future generations because she is a vision of majesty, power, luxury and elegance with no equivalent in today's shipping world. To let QE2 rot away or get scrapped would be a supremely uncivilised outrage. What is happening to her since 2008 is just nonsense.
"I still hope Dubai will eventually find the amount of inspiration and courage (not just money) required to preserve QE2 in a sustainable and creative manner, like the Americans did with Queen Mary, the Dutch with Rotterdam and the Japanese with Hikawa Maru. Even if this means sending her to London, where a smart and exciting project is ready for her. She deserves such a positive, innovative and realistic project at long last. And so does her loyal following worldwide."