Duchess of Cambridge comforts mother of autistic teen during Place2Be Awards
Kate Middleton told the crying woman: 'I just had to do that as a mum'.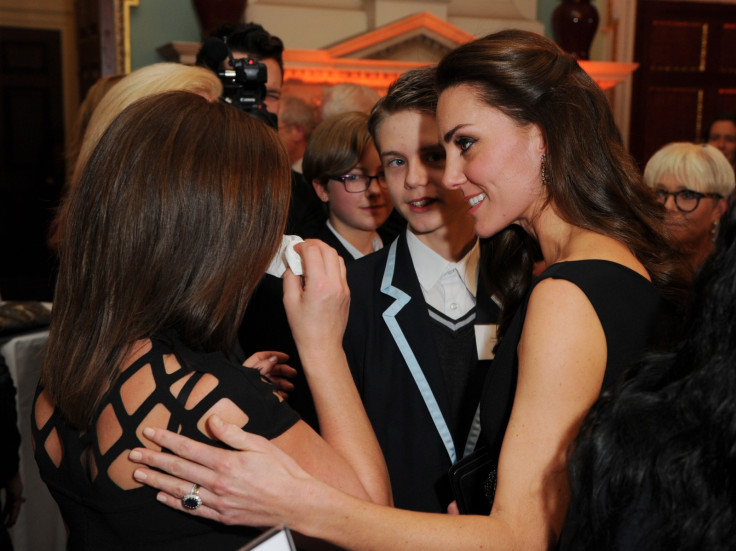 The Duchess of Cambridge could not stop herself from comforting a sobbing mother during a charity awards ceremony on Tuesday (22 November). Cari Knapton received a hug from the royal mother of two as she became emotional hearing her 13-year-old son tell the duchess about his battle with autism and Asperger syndrome.
The 34-year-old princess reportedly wrapped her arms around Knapton, from Preston, and told her: "I just had to do that as a mum." Knapton's son Ethan was speaking to Kate Middleton at an awards ceremony for the children's mental health charity Place2Be, MailOnline reported.
Knapton told the MailOnline about her encounter with Middleton and said she could not believe her reaction.
"The Duchess just leant over and said to me, 'I've got to give you a hug as a mum.' I couldn't believe it, it was such a kind gesture."
Middleton, a patron of Place2Be, attended the charity's Wellbeing in Schools Awards at Mansion House wearing a wasp-waisted, flared black cocktail dress from British label Preen.
She paired the chic cocktail dress with black Prada pumps and sparkling belt by Temperley. The dress was nearly identical to the red dress she wore during her tour of Canada in September of this year.
According to the MailOnline, Middleton first attended a reception to meet the finalists before presenting the Child Champion and Young Person Champion Awards.
The Place2Be awards honour individuals who have demonstrated remarkable commitment to advocating children and young people's mental health.
The Huffington Post noted that Middleton last attended the awards ceremony in 2014, though she has been a patron of the charity since 2013.
Place2Be, the UK's leading children's mental health charity, works with more than 282 primary and secondary schools across Wales, Scotland and England. The charity provides in-school support and training aimed to improve the mental health of students, families, teachers and school staff.
© Copyright IBTimes 2023. All rights reserved.