Kate Middleton on royal tour of Edinburgh to promote mental health charity Place2Be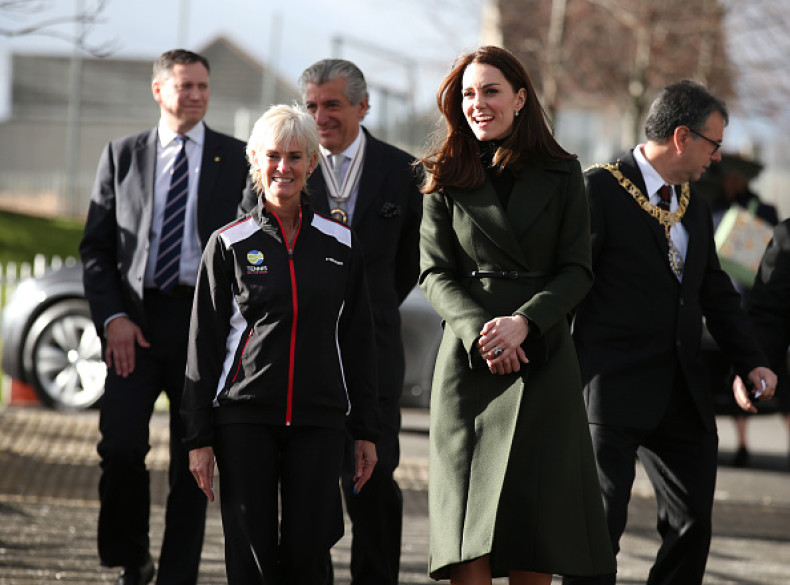 The Duchess of Cambridge was in sporty mode as she took part in a tennis workshop during a visit to Edinburgh. The mother-of-two was greeted by British tennis champion Andy Murray's mother Judy at the Tennis on the Road workshops at Craigmount High School in Edinburgh on February 24 in a training session for coaches.
Donning Monreal London 'tuxedo' track pants Asics trainers, and a long-sleeved white Nike top the princess didn't hesitate to join in and show off her tennis skills as she expertly wielded a racquet.
The Duchess revealed that she is eager for her son Prince George to take up the sport and took advice from Judy on when she should get the two-year-old to set foot on the court. "She was talking about at what age can a child hold a racquet," Judy revealed. "It's about strength. I was saying to her with children of George's age you start with a balloon and the hand. It is about doing the right thing at the right time."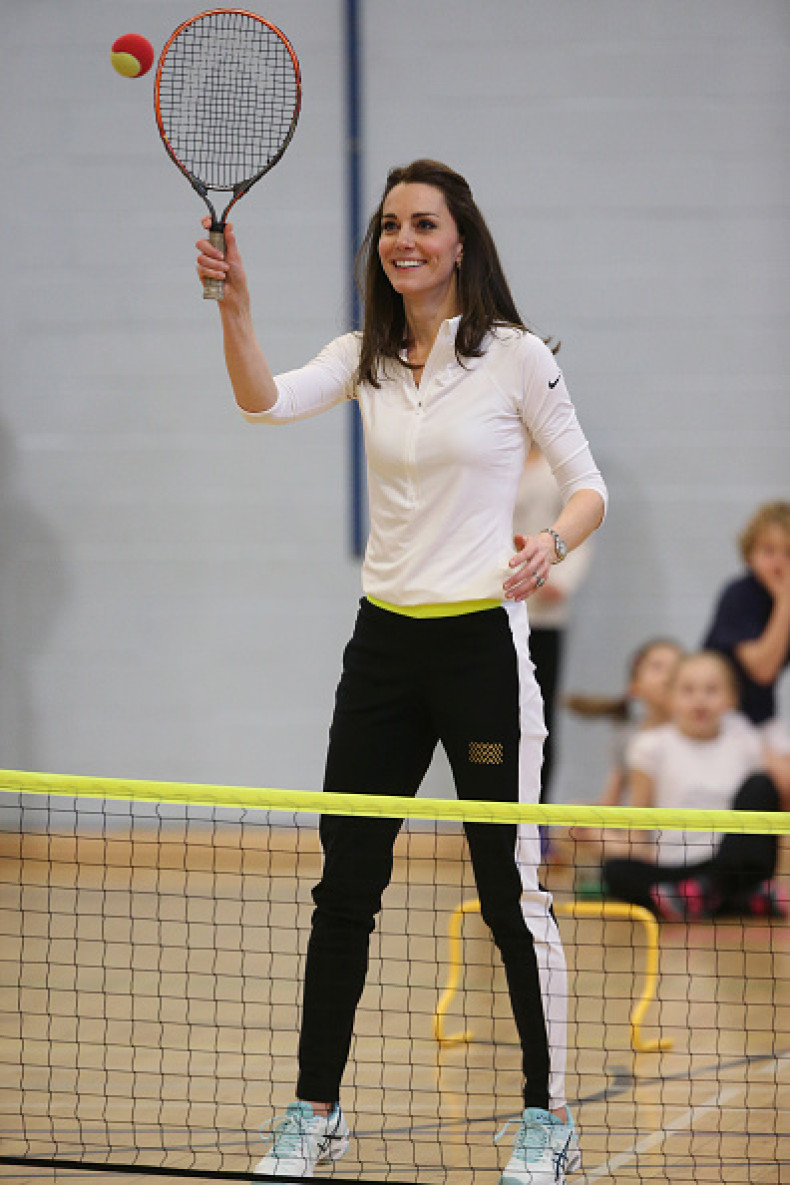 Judy, who was showcasing her Tennis On The Road workshops, encouraging volunteers to coach the next generation of British tennis players, said her sons Andy and Jamie started off by hitting a balloon across a sofa to each other, then played tennis with cereal packets for a net, biscuit tin lids for racquets and a ping pong ball.
After the training session, Judy Murray said: "From a parents' perspective she was very interested in how she could help her kids to develop the skills that you need to do sports because she enjoys sports so much.
"She had lots of questions during the session and many many after the session and that's a really good sign. She was keen to be able to understand how she could help her children to enjoy sport. That whole thing of starting with the hands and balloons at the age that George is at is an easy way to get them started - tracking a ball, sending and receiving."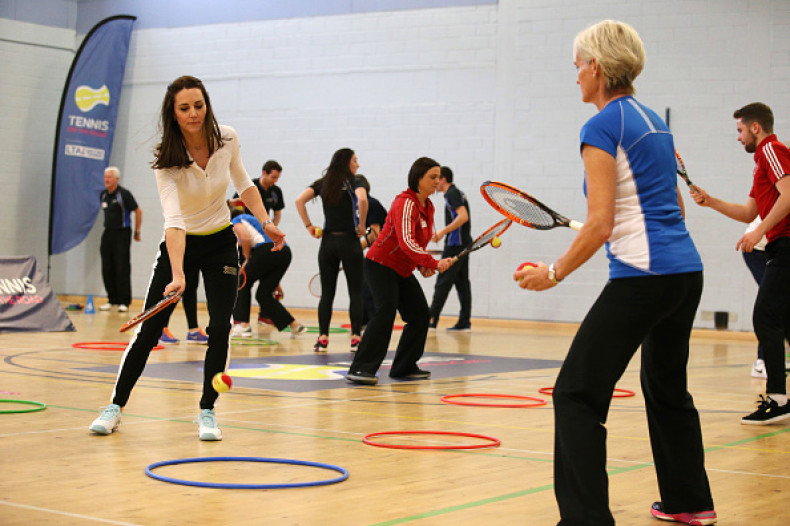 While she is known to be passionate about sport, the Duchess's keen interest in tennis has fueled speculation that she is to take over from the Queen as Patron of Wimbledon. Her enthusiasm was in evidence as she cheered on the British stars at last year's Wimbledon. The royals also have a private tennis court at their Norfolk home, Anmer Hall.
Judy said: "It's a huge thing for tennis and for women's sport to have her in a high profile role. I'm sure she'll be a very active patron because she's a regular attender. It's very clear she loves watching and playing and that can only be good for the sport."
The focus of the Duchess's tour of Edinburgh was to highlight the local partnerships between charities, communities and schools which deliver programmes and sporting activities for children and young people.
Earlier, Kate, who is known as the Countess of Strathearn north of the border,
visited St Catherine's Primary School to discuss the work of Place2Be, a child mental health charity of which she is Royal Patron. Wearing a Max Mara coat the Duchess was welcomed by pupils who gathered in the school playground anticipating her arrival.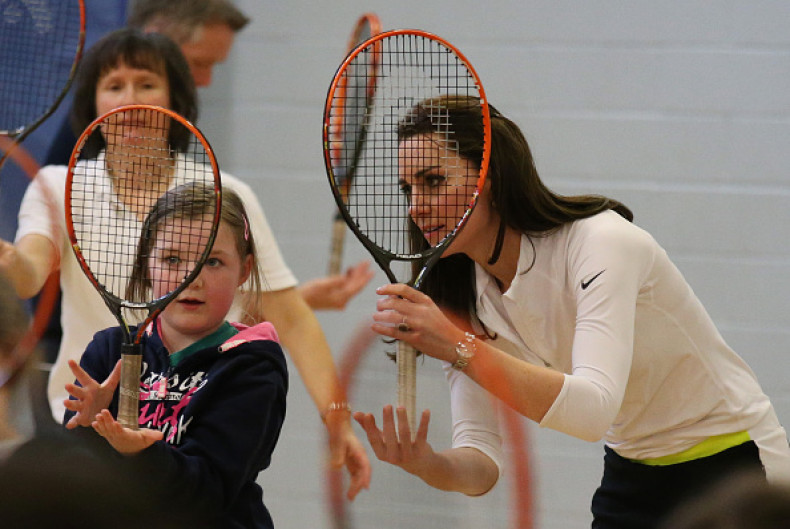 She was greeted by Suranne Jeffrey, eight, and Rodney Oduro, 10 who presented her with a bouquet of flowers. The Duchess attended the school assembly where the children sang her a song of welcome and to the delight of the children, the Duchess joined in with the actions. Invited to speak by head master Paul Hunter, the Duchess said: "Good morning everyone. Everyone should start the day like that! Hope you all have a great day and I look forward to meeting some of you later."
Luke Alexander, 12, presented her with a Quaich cup - a special Scottish two-handled drinking bowl - to signify friendship.
The Place2Be charity offers a drop-in service for children who want to discuss emotional issues such as bullying or problems at home, and has specialists working in schools all over the UK. The Duchess and Prince William have been highly committed and focused on raising awareness of mental health issues among young people and children and have attended a series of high profile events in recent months to support the cause.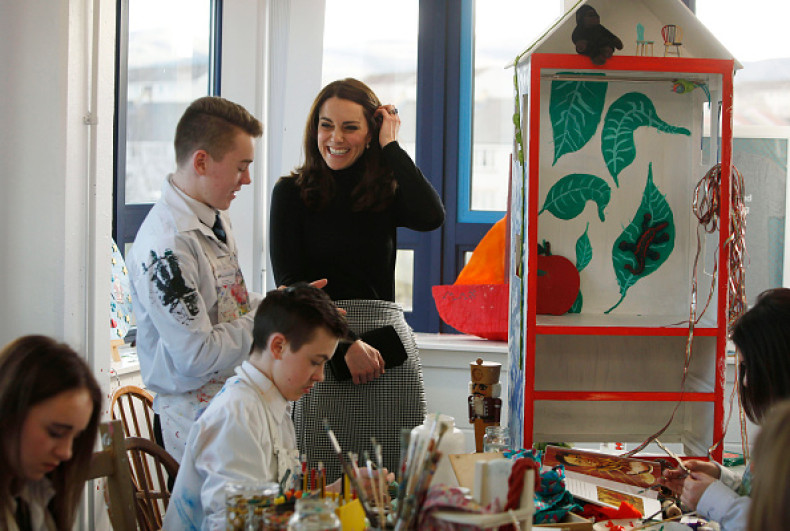 Jonathan Wood, national manager for Place2Be in Scotland, said: "It's so important to have the Duchess as our patron. She's helped raise the profile on this issue. Mental health is a taboo subject in general and the idea that very young children may suffer that distress may be hard for some people to believe.
"It's invaluable for a service like ours and she's really helped put children's mental health on the map. She wanted to come and see our work in a school, and we've worked with St Catherine's for some time."
Wood added: "There's two ways Place2Be helps: a drop-in service where any child can attend for problems like bullying or falling out with their friends in the playground. The second is an intensive one-to-one for kids with higher needs. Those who have difficult home lives, there are drugs and alcohol, neglect at home or simply just not fitting in at school.
"At St Catherine's there are two rooms here; one set up for play therapy to encourage the kids to talk and show through play. We also work with the parents and school staff so the work isn't undone at home."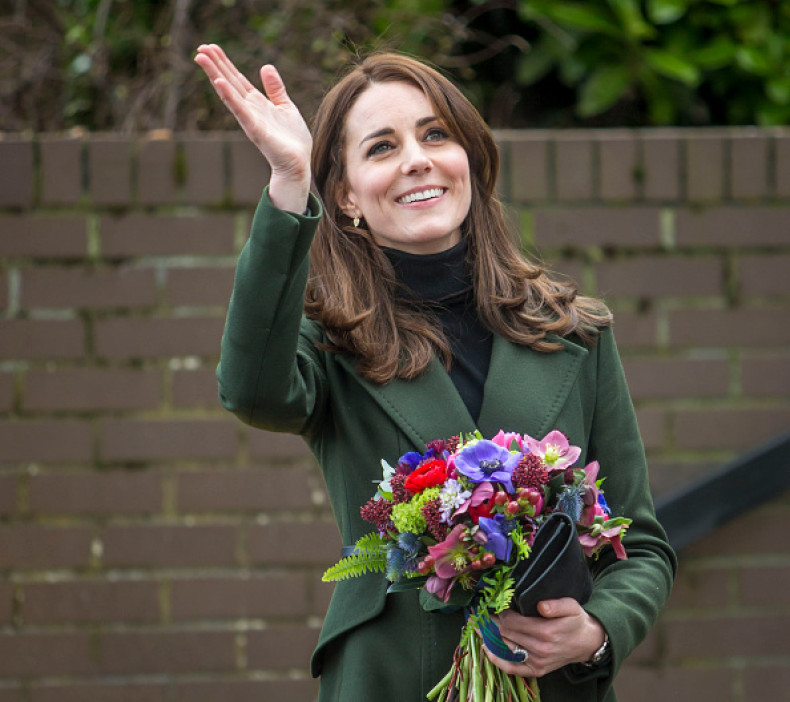 After joining head teachers from schools across Edinburgh to discuss mental health challenges, the royal headed for Wester Hailes Education Centre to visit the first project in Scotland by The Art Room, another mental health charity of which she is patron. The Art Room uses art therapy to help build self-confidence in children, many of whom have been excluded from school because of behavioural issues.
Juli Beattie OBE, Founder Director of The Art Room, said of the visit: 'It was such a positive thing for the area, and for the Duchess, to see the work of the project she has put her name to, and we decided we are going to meet to talk further about the stigma and how we can offer further intervention.
'The children have gone away thinking 'we're worth it', and they are worth it.' Lewis Paterson, acting principal of the school, added: 'I think her visit has given the youngsters a bit of confidence, they will be thinking we must be a wee bit better than we sometimes think we are.'
The Duchess launched children's mental health week, earlier this month, with a video message meeting some London schoolchildren who had all benefited from the charity. She also took over as guest editor of The Huffington Post for the day as part of the Young Minds Matter campaign, designed to raise awareness for children's mental health issues.