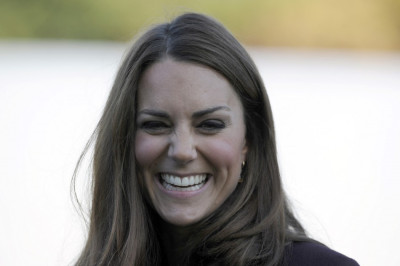 The Duchess of Cambridge has been met by hundreds of people in Newcastle on her first solo tour of the north east.
This is Catherine's first solo trip to the north east. She was supposed to be accompanied by husband Prince William, but he had to cancel in order to attend his former nanny's funeral.
Jackie Slesenger, Lord Mayor of Newcastle, welcomed Catherine at the Newcastle Civic Centre. Prior to her arrival, Slesenger said: "We are absolutely delighted to welcome the Duchess of Cambridge to Newcastle on her first official visit to the north east.
"This is indeed an honour for the whole city and it will give us an opportunity to showcase our talents in education, sport and science as well as our international work."
One fan who came out to meet her was 10-year-old Terry Campbell, who had been determined to get a hug from Her Royal Highness. When she walked past, Terry thrust out his arms and Catherine obliged.
He said: "It was good, I was hoping to get a hug from her when we came here this morning.
"I never actually thought it would happen. I can't believe she hugged me back. She was everything I thought she would be. She was really nice."
Inside the centre, the Duchess met staff and pupils at the Percy Hedley School, where she was welcomed with a boccia demonstration.
As well as having a go at the Portuguese precision ball game, she also found out about the work the school does with children who have cerebral palsy, motor disorders and special speech and communication needs.
Another stop was at a community garden in Elswick Park and finally she concluded her visit at the CRI Stockton Recovery Service in Stockton-on-Tees. The organisation is a partner of Action on Addiction, a charity the Duchess is a patron of.