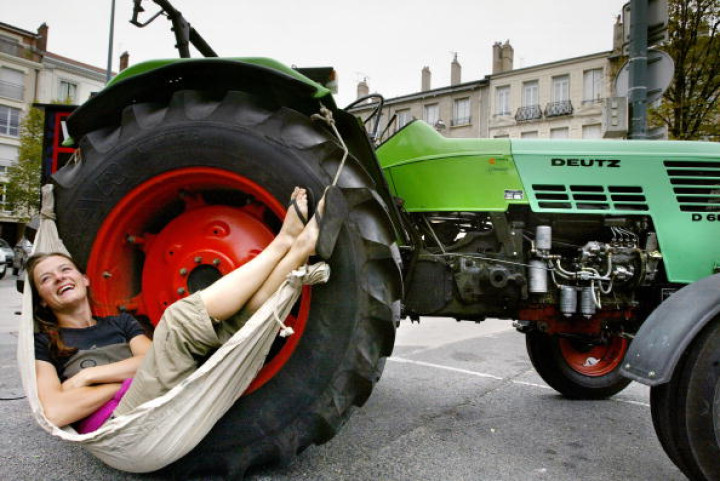 Dutch adventurer Manon "Tractor Girl" Ossevoort is gearing up for her next venture to the South Pole after driving a tractor through Africa.
The 38-year-old mother of a 10-month-old baby is currently in the phase of getting her favorite red Massey-Ferguson tractor ready for the next adventure.
She will be starting off from the edge of Antarctica at Russia's Novo base and cover a 4,500-kilometre (2,800 mile) round trip, to the South Pole and back, across the largest single mass of ice on earth.
"Ten kilometres an hour would be good. Fifteen would be nice, 20 lovely," said Ossevoort.
Ossevoort expects to complete the round trip in four to six weeks by covering 100-to-200 kilometres a day.
She will be setting off around 20 November from Cape Town to Antartica, where she will begin her journey to the South Pole.
"I think I'll love the experience, travelling the last leg in relative silence over this vast and white continent. It's a beautiful last phase in a long pilgrimage," said Ossevoort.
Ossevoort is overjoyed to travel to what she likes to call the "end of the world."
While she traveled alone across Africa, Ossevoort will be accompanied by French mechanic Nicolas Bachelet in Antartica, who will share in the driving as the tractor needs to be moving through day and night.
Also accompanying her will be a team of seven other members who will be filming her adventure for a documentary.
First Trip
Ossevoort started off on her first trip from her hometown in Holland to Cape Town in 2005.
It took her four years to reach her destination at the southern tip of Africa.
A former theatre actress, Ossevoort has been writing a book and works as a motivational speaker on the side.
"The tractor for me symbolises this very down to earth fact that if you want to do something, maybe you will not be so fast but if you keep going and keep your sense of humour you will get there," said Ossevoort.
Follow Ossevoort in her journey through Antartica here.