Chinese e-commerce giant Alibaba Group has picked the New York Stock Exchange over rival Nasdaq for its US initial public offering.
Alibaba, which handles over 80% of online retail transactions in China, the world's second-largest economy, will list under the symbol "BABA", the company said in an updated IPO prospectus on 26 June.
Alibaba's IPO, expected this summer, could value the Chinese firm upwards of $200bn (£117bn, €147bn).
The impending share sale could trump social networking giant Facebook's $15bn floatation in 2012.
"We participated in a comprehensive and deliberate exchange selection process and we are pleased to welcome Alibaba Group to the New York Stock Exchange," an NYSE spokesman said.
Operations
Earlier in the month, Alibaba disclosed details about the 27-person partnership that will run the firm post its US listing.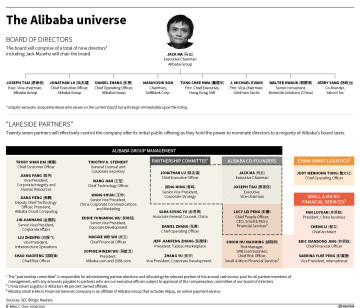 The firm, on 16 June, filed an amended prospectus for its planned stock sale, where it said its partnership structure will include 22 members of management such as chief executive Jonathan Zhaoxi Lu, chief operating officer Daniel Yong Zhang, executive chairman Jack Ma and executive vice chairman Joseph Tsai.
The 27 partners will have the exclusive right to nominate a majority of Alibaba's nine-board members.
Alibaba also said its shareholders SoftBank and Yahoo have agreed to vote their shares in favour of Alibaba Partnership's nominees.
NYSE v/s Nasdaq
The NYSE beat the Nasdaq bourse in terms of overall listings in the first half of 2014, the busiest period for IPOs since 2011, accounting for $19.8bn in total IPO proceeds, or 61% of all American IPOs, Reuters reported.
Facebook is listed on the tech-heavy Nasdaq.
Nasdaq has also made inroads against NYSE on blue-chip IPOs, bagging Kraft Foods and Texas Instruments.
Earnings

Alibaba's revenue in the three months to March 2014 rose 38% year-on-year to $1.9bn while profit increased 31% to some $884m.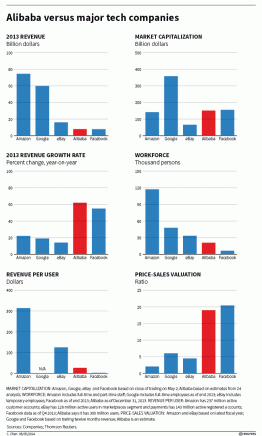 Transaction volume on the Taobao site totaled CNY295bn in the three months ended 31 March, up from CNY223bn a year ago, while transaction volume on the Tmall site totaled CNY135bn as against CNY71bn a year ago.
Alibaba and its affiliates have splurged in excess of $6.7bn over the past six months, most of it in Asia.
The investments, which are expected to boost Alibaba's valuation, include an online market place in the US, a Chinese football club, a US-based mobile application developer, a Hong-Kong based department store operator and Chinese media assets.
Alibaba, in September 2013, decided to list itself in the US instead of Hong Kong.
The Chinese firm wanted its partners - the founders and senior employees - to be able to control the composition of its board post a floatation, a privilege not available at the Hong Kong bourse but granted in the US.
Alibaba was founded by Jack Ma in 1999.