EA chief discusses Mass Effect Andromeda's mixed reviews and BioWare's new IP delay
EA CEO Andrew Wilson says they are very happy 'with how BioWare is treating Mass Effect'.
EA CEO Andrew Wilson addressed the mixed reaction to BioWare's latest sci-fi RPG Mass Effect: Andromeda saying he would have liked the reviews to have been better, but was proud of the game created. During an earnings call following EA's financial report for Q4 2017, Wilson said that although the review scores were "lower than we would have liked", many players found "exactly what they're looking for."
"Mass Effect is an interesting title," Wilson said. "It was in development for a really long time and represented a lot of great things that BioWare is known for: story, size, depth, breadth, imagination. And while overall, the aggregate review scores were lower than we would have liked, we did have over 100 reviewers score the game at 80 or higher.
"So it represents a fan base that's very passionate; looking for very particular things. And many players found exactly what they're looking for and some players did not."
He also noted that BioWare will continue to "regularly" support the game with new content.
"We're very happy with kind of how BioWare is doing, how BioWare is treating Mass Effect," he said. "And our expectations for Mass Effect are still strong for the future and the franchise overall."
Wilson also revealed that BioWare's mysterious upcoming IP, code-named Dylan, has been delayed into EA's 2019 fiscal year which runs from April 2018 through March 2019. EA previously said the title would be expected by 31 March 2018 when EA's 2017 fiscal year ends.
The executive said they decided to push back the game's release to "add more to the disruptive new social designs for our players."
"We are very pleased with the progress of our new action IP from BioWare," Wilson said. "The design is stunning, gameplay mechanics are excellent, and the action is exhilarating. The game is built around a live service, and through our creative process, we've decided to add more to the disruptive new social designs for our players. To accommodate that, we are moving the launch date for this project into fiscal year '19."
However, Wilson was quick to mention that new IP's delay had nothing to do with what happened with Mass Effect: Andromeda.
"The choice to move the new IP and what happened with Mass Effect are completely unrelated", Wilson said. "The realities is we have a creative process. As a company, creativity and pioneering is really important for us. Now, innovation in games is important more now than ever. And as a leader in the industry, we see it as our responsibility to innovate.
"As part of our creative process – and I get to be involved in that creative process – we recognize that there was so much more opportunity in a connected network social world to do some things in the new BioWare game that had never done before and we don't think anyone is going to do anytime soon.
"But by virtue of our network, our cross-platform presence and our scale, we think we can do that. And we chose to give the team some more time to deliver against that innovation because we believe players are looking for the kinds of things that we plan to put into that game."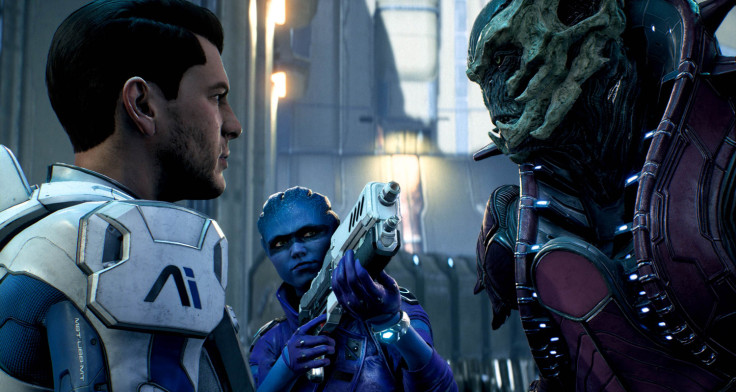 Wilson did not mention any other details about the new IP, but teased that BioWare is doing some "amazing things" that could be revealed "in the months to come." It is possible that EA will reveal more during its E3 press conference on 10 June, Gamescom in August or outside of these events.
Released in late March, Andromeda received criticism over its characters' weird expressions and dead eyes, bizarre movements, dialogue issues and multiple technical and performance problems. BioWare said it plans to address these issues over time in upcoming patches.
It has already resolved some key issues in the few patches released thus far and plans to release the next one today.
Mass Effect: Andromeda is out now for PS4, Xbox One and PC.
© Copyright IBTimes 2023. All rights reserved.