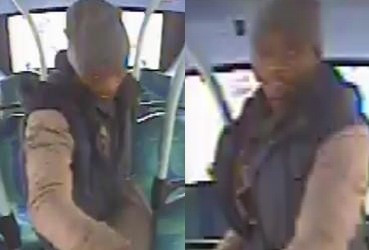 A man on bus in London launched an unprovoked attack on a fellow passenger, strangling him with a scarf until he passed out.
Police have released CCTV footage of the incident, which took place on a C1 bus travelling through the Earls Court area.
The attack occurred on 1 December at around 1.50pm. The 37-year-old victim was on his way to work when he was choked by the assailant.
Footage shows that the suspect got on the bus and sat directly behind his victim. They have a brief conversation before the attacker strangles with man with his scarf from behind.
The 37-year-old passes out for a few seconds, after which the attacker tries to choke him again.
Detective constable Thomas Norman said: "This was an unprovoked attack on an innocent passenger who was on his way to work.
"The victim has been left highly traumatised. It was so violent that he passed out and this could have been far worse.
"I would urge anyone with information or anyone who recognises this man to contact us as soon as possible. This man is a danger to the public."
The victim was assisted by passengers and got off at Earls Court, where he reported the offence. He was treated for minor injuries in hospital.
The suspect alighted at Shepherds Bush. He is described as black, in his early to mid-20s and wearing a grey beanie hat, dark jeans, dark boots, a beige sweat shirt and a sleeveless puffa jacket.
This follows another unprovoked attack in London where a 16-year-old girl was knocked unconscious just 500 meters from her home. A 34-year-old man was arrested after footage of the incident was released.
(Met Police/YouTube)