Manchester Police will not Block EDL Hyde March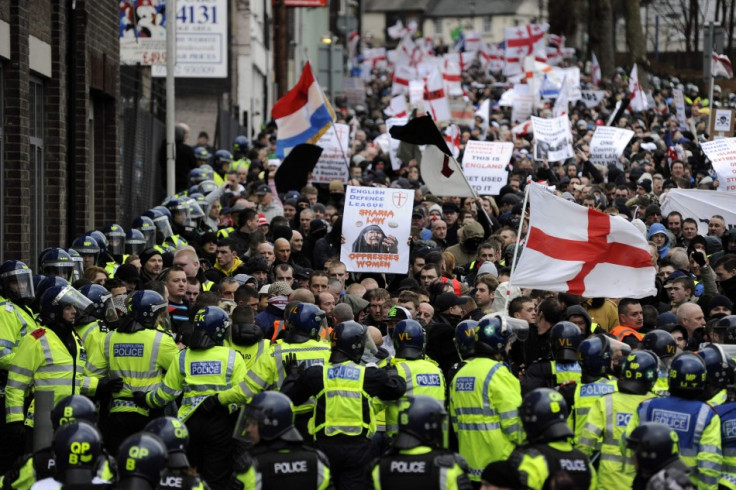 Police are ignoring pleas from a local council to ban a demonstration by the far-right English Defence League (EDL) in Hyde, Greater Manchester.
Tameside Council, which governs Hyde, passed a motion calling for the march to be stopped.
"I have a very simple message for the EDL and other right wing extremists who might be thinking of coming to Hyde this weekend - you will not divide us and you are not welcome here so stay away," council leader Kieran Quinn wrote on his blog.
In order for a ban to be put in place, Greater Manchester Police must write to the Home Office to request one. A Home Office spokesman told IBTimes UK that no application for a ban had been made.
"There is considerable work going on to contain the demonstration," Lynn Travis, Labour Party secretary for the Hyde branch, said.
"It is not going to be a march. Apparently, we have agreement from the EDL that they will gather at the station they arrive in and they will be taken to an area where they can have their protest, which is a very large car park.
"They will probably construe that as a march but there is no way that they will be allowed to march through the mainly Asian area of the town.
"All we can do is hope that it is contained."
The EDL is demonstrating in Hyde after an alleged racial assault on a white teenage called Daniel Stringer-Prince by an Asian group.
Stringer-Prince's mother distanced herself from the EDL.
"The EDL have decided to do this and it's go nothing to do with us whatsoever," Cheryl Stringern told the Manchester Evening News.
"We don't want this march to go ahead. It's not going to change anything - it won't make anything better. It will just cause more problems. I certainly don't want Daniel's name dragged into something we don't agree with."
EDL members were defying the family's wishes.
"We don't need the approval or even the support of the victims of these vicious racist attacks against our people in order to hold a demo," wrote one EDL blogger called Suzy.
"We are quite entitled to be outraged and demo anywhere we see fit."
The group has been linked with a violent rampage in nearby Rochdale on 23 February, which saw a takeaway linked to a rape trial have its windows smashed and bricks thrown at police.
© Copyright IBTimes 2023. All rights reserved.