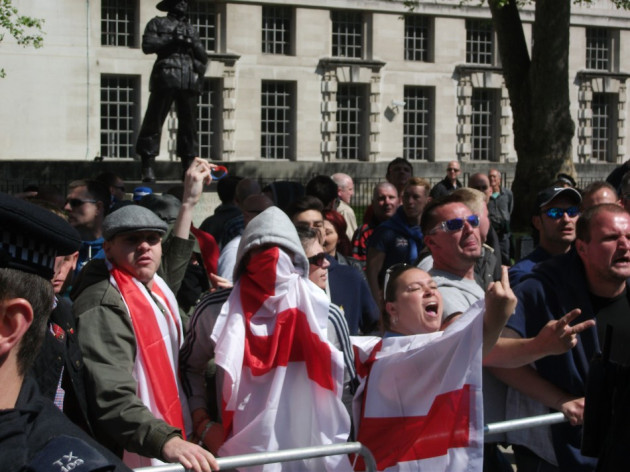 Far-right English Defence League supporters have taken their rage at the murder of soldier Lee Rigby to Prime Minister David Cameron's doorstep.
The prime minister was not at home, having jetted out for a holiday in Ibiza, but a crowd of around 250 anti-EDL protesters were waiting near Downing Street.
Pictures show what happened when EDL and Unite Against Fascism (UAF) protesters traded insults around the corner from government department buildings.
More than 500 EDL supporters turned out for the bank holiday demostration - the lastest in a string of events up and down the country orchestrated by the group.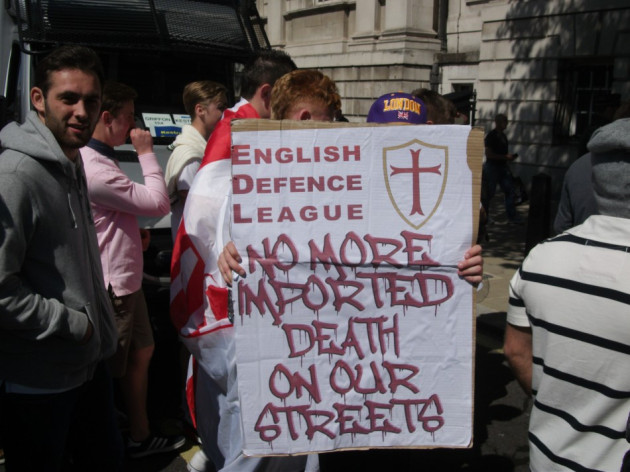 They were protesting about the beheading of army drummer Lee Rigby on the streets of Woolwich by two suspected Islamist militants.
A heavy police presence, including mounted officers on horses, kept the two groups apart to prevent the tension degenerating into violence.
The far-right group brought speaker systems to Whitehall so anyone inside Downing Street at the time would surely have heard something was going on nearby.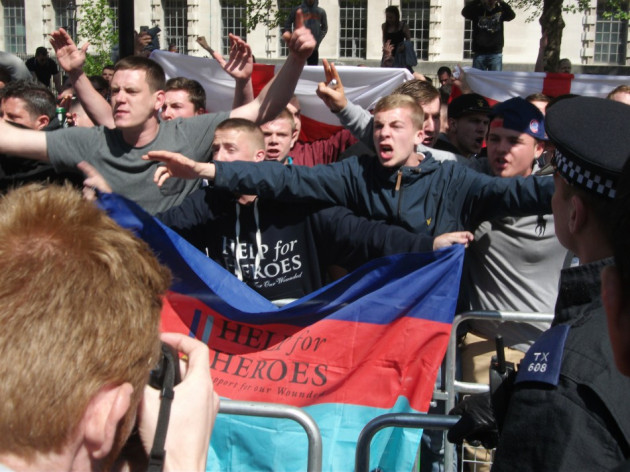 EDL supporters, led by far-right figurehead Tommy Robinson, believe UK leaders have repeatedly let down ordinary British people.
Hospitality chain J D Wetherspoon may be added to the EDL's blacklist, after bosses at the Lord Moon of the Mall pub in Whitehall slammed its doors shut. The EDL had earlier announced it would be the muster point for the march.
The crowd spilled out onto the streets, bringing traffic chaos and a heavy police presence to the scene.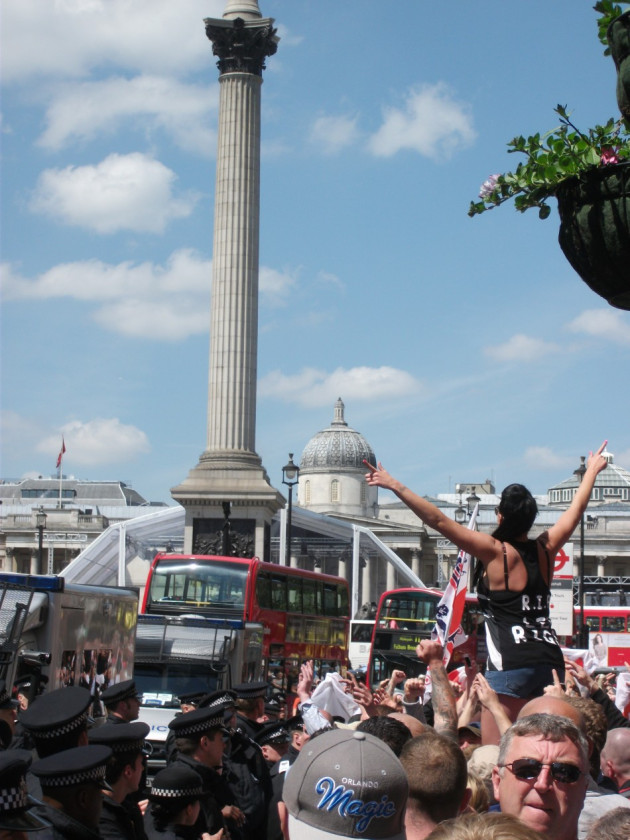 Gallons of beer were drunk before the procession set off down Whitehall, chanting There's only one Lee Rigby and a string of nationalist slogans.
But the EDL failed to get very far, and were kettled at the corner of Whitehall Place.
About 500 yards down the road, erstwhile EDL member Kevin Carroll berated members of the Unite Against Fascism counter-demo - who duly baited him back.
One man in the UAF protest shouted that soldier Lee Rigby got what he deserved for being a member of the Armed Forces.
Police kept apart the opposing sides. At time of publishing, there were no reports of any arrests.