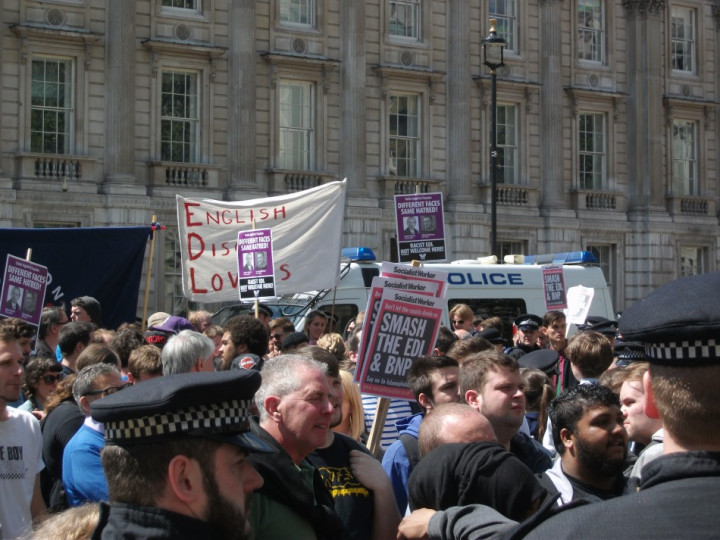 Police are on alert after anti-racist activists vowed to protest against EDL leader Tommy Robinson leading followers through the east London borough of Tower Hamlets as part of a rally.
Unite Against Fascism (UAF) said it would stage a counter-demo at the same time as the English Defence League was due to pass the East London mosque in Whitechapel. The mosque was previously linked with fundamentalist Islam.
Robinson and Kevin Carroll have received permission from the Metropolitan Police for a "Walk of Honour" in memory of soldier Lee Rigby.
Violence broke out between the UAF and EDL when the groups clashed near Downing Street in May.
The EDL march is planned to pass a number of potential flashpoints in six London boroughs many of which have large Muslim populations.
In response, UAF protesters said they would mount a show of force by meeting at Hyde Park and then marching to Altab Ali Park in Tower Hamlets.
A UAF spokesman said: "Wherever the EDL go, UAF will voice opposition. UAF is assembling at Park Lane adjacent to Hyde Park, as that is where the EDL is assembling.
"The EDL's attempt to go to Woolwich is a straightforward attempt to take advantage of the murder of Drummer Lee Rigby and is an insult to his memory and family, who have clearly stated that they don't agree with groups using his murder to build their organisations."
A police spokesman told IBTimes UK: "We are aware of an intended sponsored walk due to take place on Saturday in central London. Metropolitan Police officers have been liaising with the organisers around their intended walk and continue to work with them.
"Another group is planning a counter-event. Officers have been liaising with the organisers of that event and continue to work with them."
It was not known how many EDL supporters would descend on London for the event, which Robinson claims is not a march.
Plans for an EDL march against radical Islam were cancelled because the date clashed with Armed Forces Day, which is also tomorrow.