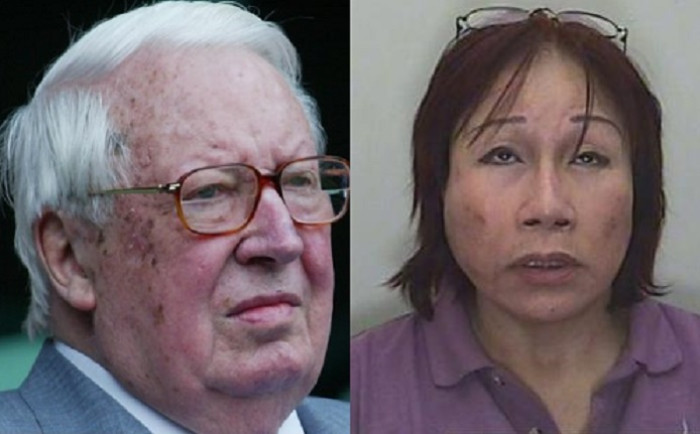 A former brothel owner accused of threatening to expose the alleged child abuse crimes committed by Sir Edward Heath has denied knowledge of any offences involving the former prime minister.
Myra Forde, 67, is said to have had a prosecution against her dropped by Wiltshire Police in the 1990s after she threatened to reveal Heath was involved in "offences concerning children".
Forde has been jailed twice for running a brother in Salisbury – a Wiltshire town where Heath had lived for many years.
The Independent Police Complaints Commission (IPCC) launched an investigation into whether Wiltshire Police dropped a criminal prosecution against Forde as she threatened to expose Heath, who was prime minister from 1970 to 1974, as well as look into claims the force failed to look into the allegations against Heath.
Speaking through her solicitor Richard Curtis, who represented her in 1992, Forde has now denied threatened to reveal Heath as a paedophile nor did she have any knowledge of any alleged offences.
Griffiths told the Salisbury Journal: "My firm acted for Myra Forde in relation to the case which the prosecution discontinued on the day of the trial and which has been the subject of a great deal of speculation.
"My former client wishes me to make it very clear that at no stage did she state that Ted Heath was a client and at no stage did she threaten to expose him as a client of hers if the prosecution was continued.
"For the avoidance of any doubt, Myra Forde wishes me to make it clear that she had no involvement with Ted Heath of any kind and has no knowledge of any misconduct on his part.
"It is my recollection assisted by discussion with my colleague who was at Winchester crown court on the day the case was discontinued and by the barrister we instructed to represent Myra Forde, that the prosecution had witness problems."
He added: "In particular it may have been the case that one of the witnesses was at court in the cells and perhaps therefore not best inclined to assist the prosecution.
"The prosecution took what at the time seemed a sensible decision that they could not prove their case and offered no evidence. This decision would have been announced in open court and would be a matter of record."
Heath, who died in 2005 aged 89, is currently under investigation for alleged child abuse by five police forces. Detectives in London, Wiltshire, Jersey, Hampshire and Kent are looking into the accusations surrounding Heath, including one from an alleged victim who claimed the former Conservative leader raped him when he was 12-years-old boy in 1961.