Mobile network operator EE has announced that it is to recall an estimated 500,000 of its Power Bar chargers amid safety fears that the product can cause fires. The firm said that the recall was a "voluntary decision" while investigations into a thermal runway issue with the charger's battery is carried out.
Mobile News reported that only one of the seven batches Power Bar chargers has been affected by the over-heating issue, out of nearly two million in circulation. Several reports of over-heating Power Bars have come to light recently, with one instance resulting in an explosion.
Last month, a medical student from Aberdeen revealed on Twitter that an EE Power Bar charger had exploded in her home, causing fire damage and leaving her with severe burns. Katy Emslie required treatment in A&E as a result of the incident.
"Around 1am, I woke up to what sounded like a firework going off and saw this black stuff all over the carpet," she said at the time. "The thing had exploded and there were flames under my bed.
"My mum came through, grabbed a towel and put the flames out and I ran through and put my hand under cold water. There was bits of Power Bar all over the room. Once we were sure the fire was out, we went to A&E where I was seen by a plastic surgeon."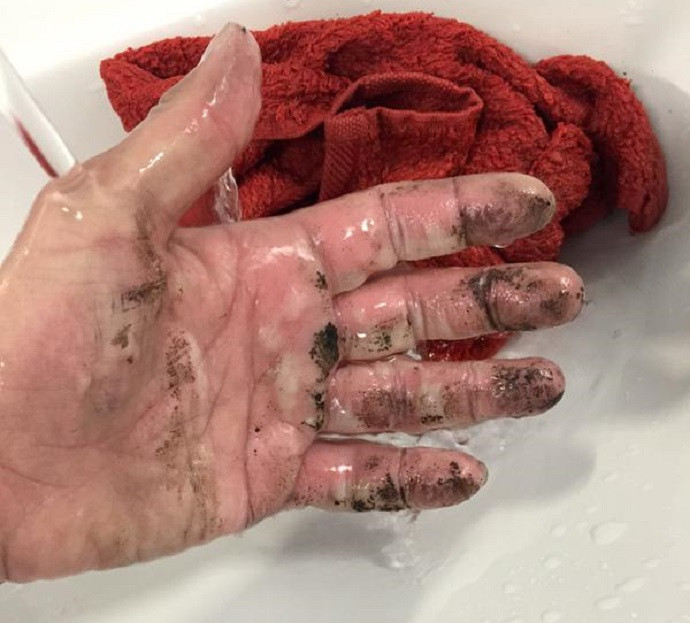 EE told IBTimes UK at the time that it had been in contact with Emslie to apologise and planned to undertake an investigation. The firm described it as an "isolated incident" and did not state whether or not it had plans to recall the Power Bar chargers.
"We're sorry to hear about Emslie's experience," EE said in a statement. "All of our products undergo stringent safety tests. This is an isolated incident and we're in contact with the customer to investigate the cause of this issue as a matter of urgency."
In a newly released statement on Wednesday (5 August), EE said that it would be recalling products with the serial number E1-06.
EE statement:
We have identified a very small number of incidents where Power Bars have overheated, all of which relate to batch E1-06 (written as Model:E1-06 on side), and could pose a fire safety risk. We are therefore recalling this batch, and requesting customers to stop using the Power Bar and return them to a local store at their earliest convenience. No other Power Bars are affected by this recall. It is our intention to replace these chargers once we have completed our investigations; we will be in touch once these have been concluded.