Police in Egypt are luring gay men to hotel rooms with dating app Grindr as part of an ongoing crackdown on homosexuality in the country, it has been claimed.
A gender researcher with the Egyptian Initiative for Personal Rights (EIPR) claimed that suspected homosexuals are seduced through the app and later arrested.
"It's related to the fact that men are using apps more than women and an obsession of who is being penetrated," Dalia Abd El-Hameed said, according to The Age newspaper. "There is this penetration mania in Egypt due to religious reasons."
Although homosexuality is not illegal in Egypt, the country's laws only recognise unions between a man and a woman as legal. Members of the LGBT community face discrimination, violence and arrests in the country.
EIPR warned earlier this month that the country had been cracking down on LGBT people since the arrest of activists who raised rainbow flags, a symbol that represents the LGBT community, during a concert by rock band Mashrou' Leila in Cairo on 22 September.
Police have arrested at least 57 people suspected of being gay or of supporting LGBT rights since that episode.
"The majority of those arrested are facing charges of 'habitual debauchery,' or 'promoting debauchery,' in accordance with articles 9 and 10 of Egypt's anti-prostitution and debauchery law 10/1961," said EIPR, which warned the mass arrest amounts to an "unprecedented crackdown" on LGBT people.
"Remarkably, a number of these individuals have already been found guilty of charges and 10 defendants in 9 cases have received harsh prison sentences, ranging from one to six years," the organisation continued.
Rights groups claimed some of those arrested were subjected to anal examinations to determine whether they had engaged in same-sex intercourse.
Human Rights Watch (HRW) and Amnesty International called on the government to halt the "abhorrent" procedure, which they said amounts to torture.
Government officials rejected the claims.
"Allegations of torturing or insulting those medically examined are lies not worth responding to. The examinations are carried out by a forensic doctor who swore to respect his profession and its ethics," one judicial source was quoted by Reuters as saying.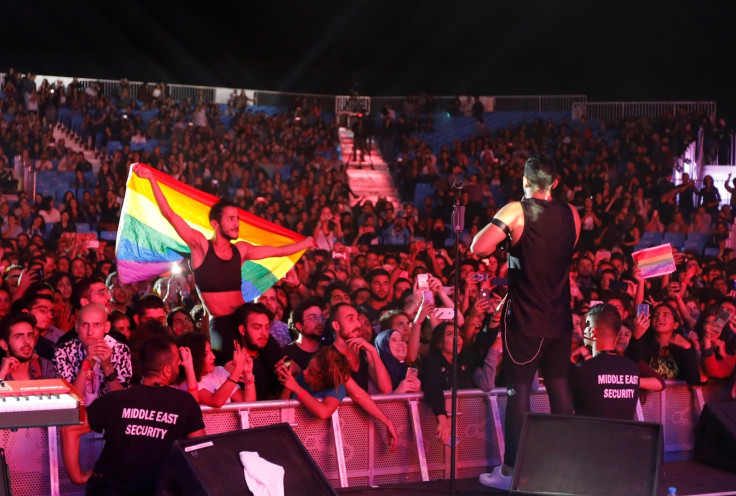 Following the incident at the concert, local media reported that the government was in talks to discuss the option to criminalise homosexuality.
A draft law received approval from a number of the parliament's members, the Egypt Independent reported.
In 2014, gay rights supporters organised an online campaign to shed light on the alleged discrimination faced by homosexuals in Egypt.
The initiative followed the arrest of seven men who had appeared in a video celebrating a gay wedding – believed to be the first in the country.
Authorities justified the arrest by saying that the images of the footage were "humiliating, regrettable and would anger God" and "constituted a criminal act".