Egypt slams UK's ban on Sharm el-Sheikh flights and asks London to reverse decision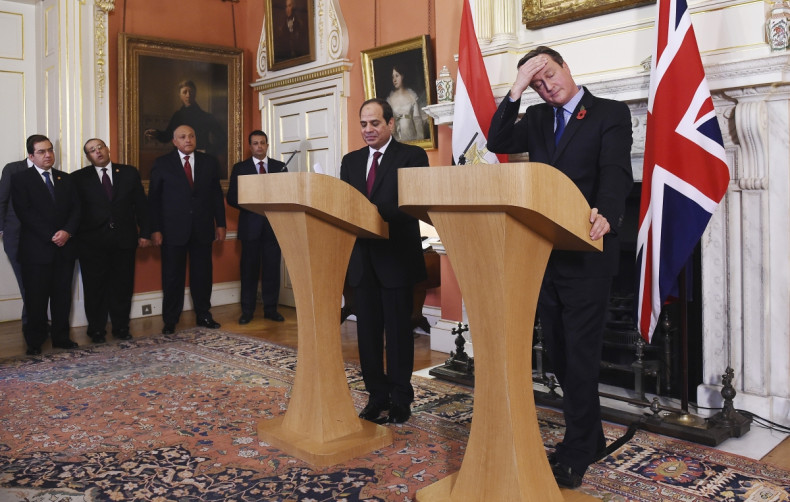 Egypt has come out strongly lashing out at the UK for unilaterally cancelling all flights to its popular tourist destination at the Sinai peninsula after a Russian aircraft was downed in what is now believed to be due to a terror attack. Both Cairo and Moscow have accused the UK of speculation that the Airbus was destroyed by a bomb on board.
Other countries in Europe have also imposed similar bans on flying to Sharm el-Shehik. Lufthansa has announced it will no longer fly to the resort, effectively affecting Eurowings, the carrier's budget subsidiary. Others have chosen instead to delay flights until further clarity is obtained.
The backlash came from Tourism Minister Hisham Zaazou who was in London with government officials, accompanying Egyptian President Abdel Fattah al-Sisi who earlier held talks with Prime Minister David Cameron at 10 Downing Street. "I greatly regret the British government's decision to halt flights. It seems to have been hasty and I do not understand the logic behind it."
On the UK's decision to send a team of security officials to the airport, he told The Daily Beast: "British security officials checked out the airport at Sharm el-Sheikh over a year ago and discovered no problems there." He continued: "When it comes to security both we and the British put the safety and welfare of passengers first."
"I expect the British to accept our position and reverse their decision on halting flights as soon as possible. As to the question of whether the crash was caused by a bomb or mechanical problem, all options are still open to investigation and I do not understand why there was a sudden rush by the media to focus on the bomb when there is no evidence to support either conclusion."
He said Egypt was keen to have a very transparent investigation and will accept whatever findings the investigators decide on. There are about 20,000 British tourists at the Red Sea resorts and more than 100 flights from the airport.
UK Transport Secretary Patrick McLoughlin told the House of Commons on Thursday (5 November) that British security teams sent to Sharm el-Sheikh "will be working intensively with the Egyptian authorities to allow normal scheduled operations to recommence."
Egyptian Antiquities Minister Mamdouh Eldamaty also rejected allegations of a bomb downing the Russian aircraft, saying: "[The crash] is not a terror act. It was an accident." Russia did not hold back either. Dmitry Peskov, a spokesman for President Vladimir Putin said Russian planes were still flying to and from Sharm el-Sheikh. "Theories about what happened and the causes of the incident can only be pronounced by the investigation.
He continued: "So far, we have heard nothing [like this] from the investigation. Any kind of similar assumptions like this are based on information that has not been checked or are speculation.
Konstantin Kosachev, a senior member of Russia's upper house of parliament accused the UK of halting flights to the area in opposition to Russia's involvement in Syria, according to the RIA Novosti news agency. "There is geopolitical opposition to the actions of Russia in Syria."
Philip Baum, editor of Aviation Security International said a bomb could have been placed on a plane in any number of ways, including by someone with airside access or by those on catering teams or maintenance crews. "The options are almost too many to consider," he told the Daily Mail.