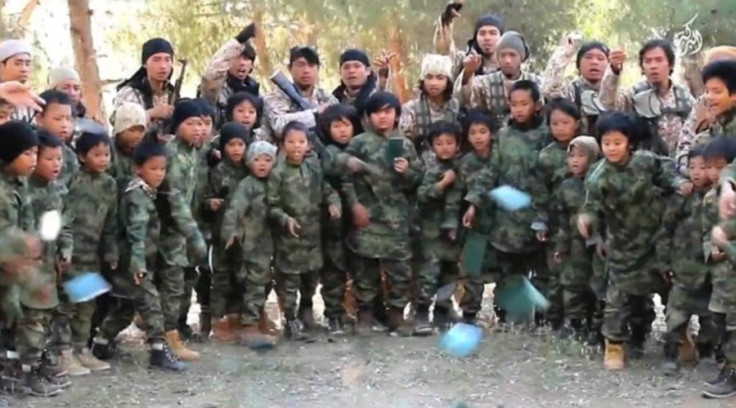 Egyptian authorities have warned parents about an new app that teaches children the Arabic alphabet with the aid of guns, tanks and cannons that was developed by the Islamic State (Isis). Egypt's Dar al-Ifta, an educational institute that represents Islam, said in a statement that an Android application called 'Hurouf' that translates as 'letters of the alphabet' in Arabic, was created to recruit children to join Daesh (Isis). For each letter the app gives examples of violent subjects.
According to the authorities some include bullets, rockets, rifles and swords as well as other subjects that 'symbolize violence, murder and war'. Dar al-Ifta added that the application featured songs made by the jihadis, pictures of the Isis flag and pictures of children wearing black masks – which they are often seen wearing in propaganda videos released by the terrorists.
They also warned that parents should closely monitor their children's online activity to avoid the so-called "brain washing propaganda" of Isis. An Egyptian source told Asharq Al-Awsat newspaper: "Such children are the winning cards for ISIS, which recruits them via social media such as Facebook and Twitter to join the organisation's ranks. Recruiting children and planting hatred and extremism in their minds has become the only option for the organisation to guarantee its survival and the dissemination of its thoughts."
The app that was available on Android devices but appears to have been removed from the Google Play store by Tuesday 17 May. It was said to have been released on 10 May by the Isis "Office of Zeal", one of the terrorist group's propaganda outlets, onto their Telegram channels and other file-sharing websites, according to conflict analysis website Long War Journal (LWJ).
The release of the app comes just two days after Isis released a video of a kids regiment of child assassins from Southeast Asia being trained at a terror camp in Syria.
French authorities are investigating an Isis propaganda video that showed two French-speaking children appearing to take part in the executions of prisoners that was released on 16 May. A French judicial source told the AFP news agency that Paris prosecutors have opened an inquiry into the 14-minute video, entitled "In my father's footsteps," which shows the two children participating in weapons training.
They are seen shooting at pictures of Vladimir Putin, Francois Hollande and Barack Obama, before executing two orange-clad prisoners.