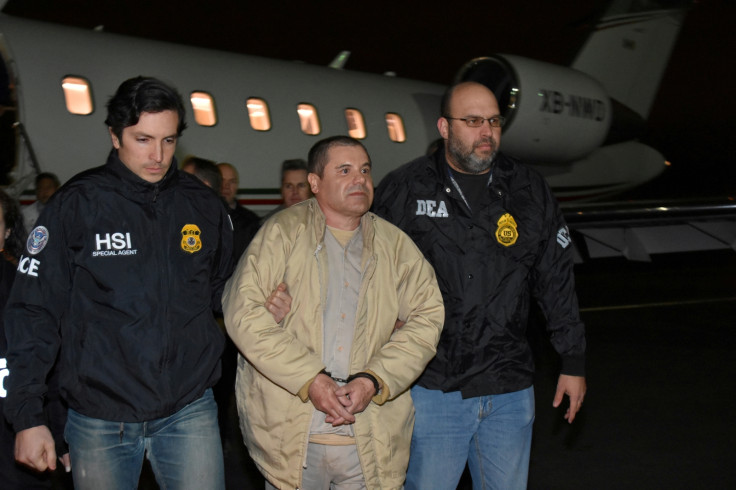 Joaquin "El Chapo" Guzman, the imprisoned Sinaloa drug cartel leader, has hired a group of heavyweight attorneys, including John Gotti's lawyer, to defend him in his US criminal case.
Attorney Jeffrey Lichtman, who successfully stopped Manhattan federal prosecutors from pinning the son of the infamous Gambino crime boss "Teflon Don" with a number of charges, confirmed on Tuesday (8 August) that El Chapo had hired him and three other lawyers for his defence team.
According to Reuters, El Chapo has hired Marc Fernich, who also represented John Gotti Jr; William Purpura, who represented Baltimore drug kingpin Richard Wilford; and Eduardo Balarezo, who represented the leader of another Mexican drug cartel Alfredo Beltran Leyva.
Wilford and Beltran Leyva were convicted and are serving long prison sentences.
The 60-year-old Mexican drug kingpin is charged with leading a massive transnational cocaine, heroin and methamphetamine smuggling operation and playing a key part in Mexico's drug war that has left more than 100,000 people dead. He was recaptured in Mexico in January 2016, six months after a daring escape from a high-security prison.
El Chapo was extradited to the US on 19 January. He faces life in prison if he is convicted of the drug, firearms and conspiracy charges. US prosecutors claim they have more than 40 people willing to testify against El Chapo.
Lichtman told Reuter it was too early to discuss what his legal strategy might be.
"But we simply hope to have the chance to give Mr Guzman a zealous defence and the chance to challenge the numerous cooperating criminals who will all be seeking to use him as their Get Out of Jail Free cards," he said.
He added to the New York Daily News: "There will be no plea deal in this case. There will be no plea discussions. We are going to trial."
In a statement, Balarezo said the attorneys "are prepared to defend Mr Guzman to the fullest extent possible to ensure that his rights are protected and that he is not steamrolled by the government and its endless train of cooperators. We will ensure the jury distinguishes between truth and myth. Mr Guzman is looking forward to his day in court."
Lichtman said that El Chapo is doing as well as could be imagined but is also "scared, confused and deteriorating rapidly. In short, he's being treated significantly worse than the Guantanamo Bay terrorist detainees."
Reuters reported that El Chapo's new legal team has not appeared in court yet. His public defenders filed a letter on Monday (7 August) stating his new attorneys want assurances that prosecutors would not attempt to seize their legal fees. Lichtman said the issue has yet to be resolved.
El Chapo's public defenders moved to dismiss his charges last week, arguing that he never should have been sent to New York. They claimed Mexican authorities were told he was being arrested on charges filed in California and Texas.
The trial is set to begin in April 2018, with prosecutors saying it could last up to three months.