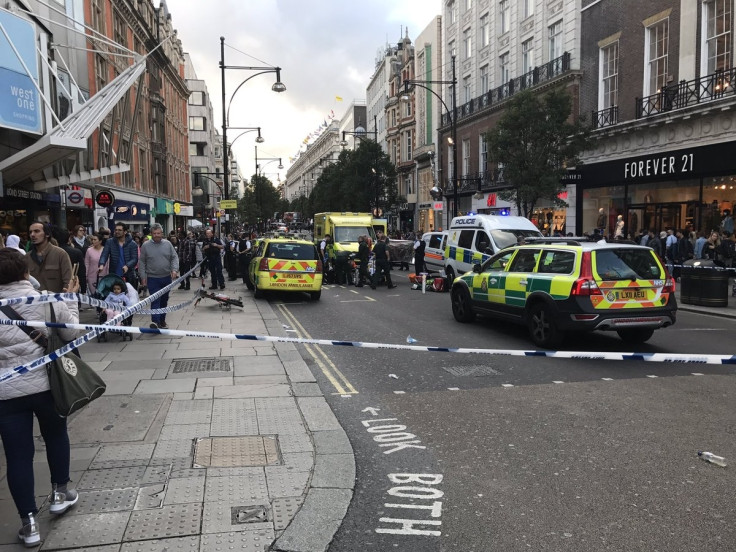 An elderly woman has died after being hit by a cyclist in Oxford Street, London.
The 73-year-old pedestrian suffered a serious head injury in the collision, which happened in front of horrified shoppers near Bond Street station at around 4.30pm on Tuesday (12 September).
Photos posted on social media showed several ambulances at the scene as paramedics treated the woman.
Both lanes of Oxford Street – one of London's most popular shopping strips – were cordoned off until later that evening.
The woman was taken to a central London hospital but died in the early hours of Wednesday morning. Her next of kin have been informed.
The cyclist stopped at the scene and was arrested after police checks showed he was wanted in connection with an unrelated alleged offence of criminal damage, a spokeswoman for Scotland Yard said.
Video footage posted online showed the cyclist arguing with police and swearing at officers as he was detained.
He can be heard shouting: "What the f**k are you holding me for? ... You're trying to make a f*****g show of me. That's what police f*****g do. You search someone, you put them in the car. You don't f*****g broadcast it to the world."
There have been no arrests in connection with the collision.
Detectives would like to hear from anyone who was in the area at the time of the incident, or the moments leading up to it.
Officers are particularly keen to speak with anyone who filmed the collision.
A Met Police spokesperson said: "Police were called at 16:29hrs on Tuesday, 12 September to reports of a road traffic collision on Oxford Street
"At the scene, officers discovered a cyclist in collision with a pedestrian.
"The pedestrian, a 73-year-old woman, was taken to a central London hospital with a head injury. She died in the early hours of Wednesday, 13 September."
Anyone with information is asked to contact the Serious Collision Investigation Unit's witness appeal number on 020 8543 5157.