Nintendo Switch and other handheld video game consoles will be allowed on flights into the UK from the Muslim-majority countries impacted by the electronics ban brought into effect on 21 March.
The controversial ban restricts passengers on UK-bound flights from Turkey, Lebanon, Jordan, Egypt, Tunisia and Saudi Arabia from bringing phones, laptops and tablets larger than 16cm x 9.3cm x 1.5cm into a plane's cabin on selected airlines.
As Nintendo's recently released Switch console surpasses these measurements when played in 'portable mode', it had been thought that owners would have to leave their device at home or left in hold luggage on British Airways, EasyJet, Thomas Cook and other affected carriers' flights.
However, a Department for Transport spokesperson told the i newspaper: "The ban will apply to flights bound for the US, not the UK," referencing a similar ban earlier enforced by the Donald Trump administration. Government officials have stated that the ban is based on the same intelligence as the US equivalent and that its enforcement is paramount to ensure the "safety and security of the travelling public."
Nintendo's reveal trailer (below) for the Switch console debuted in October 2016 and notably included footage of an individual traveling by plane while playing a version of Bethesda's open-world RPG, Skyrim, with the device resting on a tray table and propped up by its rear kickstand.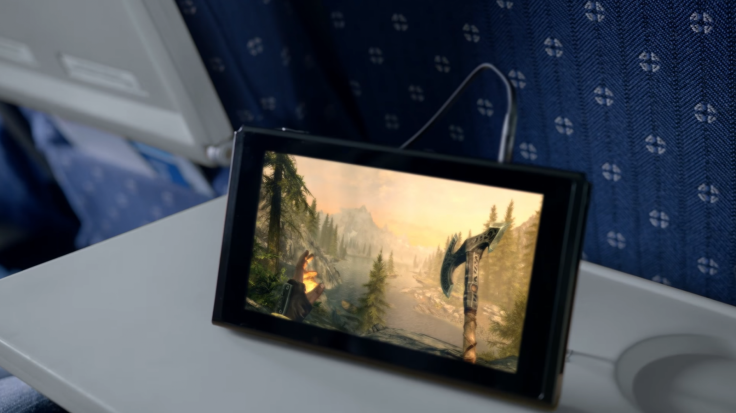 As well as the hybrid device, the official government statement indicates that Nintendo 3DS, 2DS and other handheld devices, such as Sony's PlayStation Vita, are also exempt from the upcoming ruling. An exact timescale for the roll out of the ban has yet to be announced.
Nintendo Switch launched on 3 March and went on to enjoy the best first-week sales of any Nintendo console across Europe, with the stellar Legend of Zelda: Breath of the Wild also becoming the Japanese company's most successful launch title ever. This has led to reports that Nintendo is planning to double production of the gaming hardware, with an aim to manufacture 16 million units between April and March 2018.