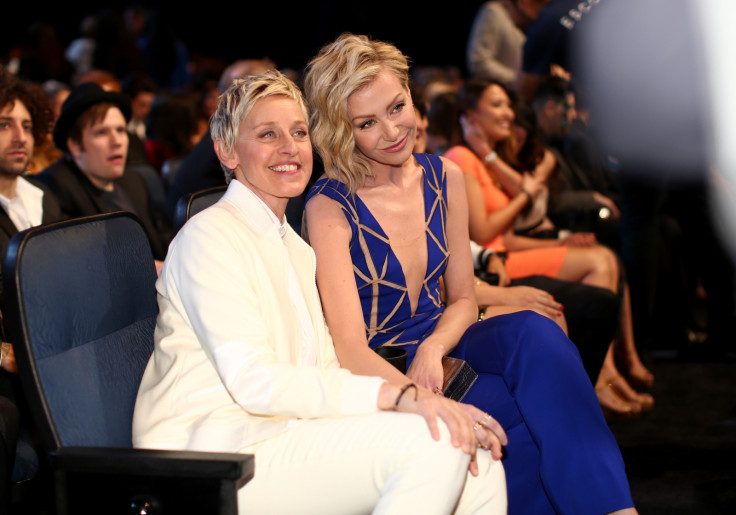 Ellen DeGeneres' marriage to Scandal star Portia De Rossi has always been a favourite subject for speculation and gossip reports. Despite their numerous appearances together, rumour mills have of late been on overdrive with split talks – with a recent report even claiming that the actress is jealous of Ellen's closeness with movie stars.
Amid all the speculations, however, Ellen and her wife enjoyed a dinner date in West Hollywood this Friday, putting all the split rumours to rest.
Pictures from the pair's romantic date showed the 59-year-old decked in a casual plaid shirt and denims as she enjoyed a stroll with Portia. The Australian actress, on the other hand appeared visibly cheerful matching steps with the TV show host.
Their date night comes on the heels of recent reports claiming that the two of them are miserable in their near nine-year marriage. Behind a picture perfect relationship, the two are rumoured to be fighting nonstop over insecurity issues, sources of a publication claimed.
"Portia is convinced that Ellen has so many friendships with sexy movie stars to get under her skin," Life & Style reported. "She thinks Ellen does it on purpose to make her feel insecure so she doesn't leave."
The website further added that the strain between Ellen and Portia was apparent when they visited Craig's restaurant in West Hollywood.
"Ellen seemed miserable and Portia just looked sad," a source was quoted as saying, while another insider quipped, "'Happy' isn't the first word I would use to describe them." That's not all; the gossip report went on to add details about their alleged arguments on the set of Ellen's talk show.
"Ellen hates that. She never wants people at work to know about her personal problems," the source claimed.
While the two of them are no strangers to divorce rumours, Gossip Cop debunked the report with a source close to the TV host dismissing the claims as "untrue".
If anything, Ellen and Portia share a "loving and committed relationship" and the actress is not jealous of her wife's friendships with Hollywood stars, the gossip debunking site said.
The pair, who began dating after meeting at an awards show in 2004, have been married since August 2008.