Ellen DeGeneres and Wanda Sykes take on Beyonce's Lemonade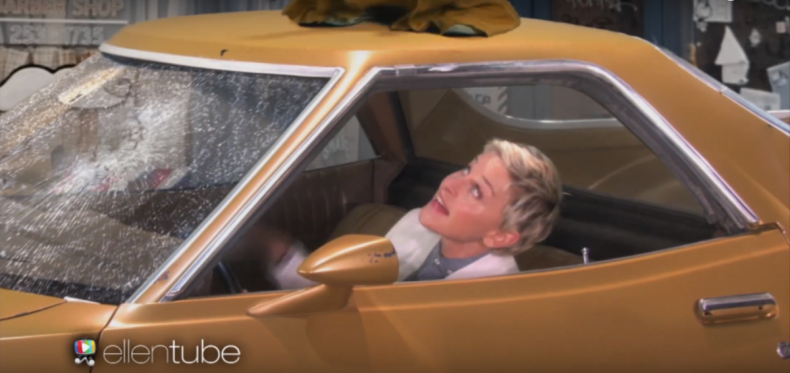 We knew it was only a matter of time before Ellen DeGeneres tried her chops at spoofing Beyonce's hit video album Lemonade. And now it has been done.
The talk-show host aired the video on The Ellen DeGeneres Show on 13 May in which she is part of the clip from Hold Up. She spots Beyonce walking down the street while sitting in her car and quickly whips out her phone to call her friend "Becky with the good hair" while watching the singer grab hold of a baseball bat.
"You will not believe this but Queen Bey has gone cra-cra!" she tells her friend "Becky" on the phone. "I think she hates cars!" she quips while watching Beyonce smashing her way past cars and a water hydrant with the bat. "Well, somebody doesn't care about the drought," she adds.
DeGeneres ends the call quickly saying: "Becky, I have to go. I'm gonna call you back. But I do love what you're doing with your hair. It looks good," touching on the singer's reference in her song to a woman who husband Jay Z may have been involved with.
The funniest part of the video is probably when the Flawless singer is shown as walking towards DeGeneres and later standing on the roof of her car, smashing the windscreen with her bat.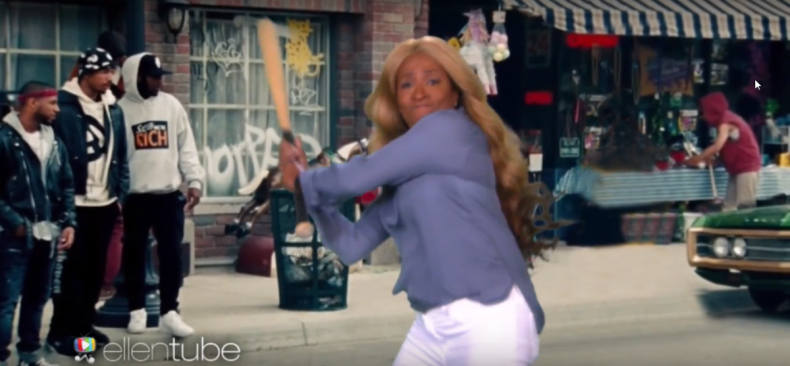 Trying to deflect the violent attack, the show host yells: "Look! Look! That's Becky with the good hair," and gestures to wig and baseball bat sporting-funny lady Wanda Sykes, who responds with: "What? Girl, I'm Wanda with the good weave!" before swinging her bat at the screen and ending the video.