Jack Straw privately expressed relief at Britain's decision to leave the European Union (EU) following the historic vote on 23 June.
Leaked emails between Straw and the former US Secretary of State Colin Powell were obtained by DC Leaks. The group describes itself as a "new level project aimed to analyse and publish a large amount of emails from top-ranking officials and their influence agents all over the world".
The former British foreign secretary's email to Powell is dated 4 July 2016 – two days before the findings of the Iraq Inquiry were published. "British politics is in the most extraordinary phase I have ever known," Straw's email states. "The only silver lining of the Brexit vote is that it will reduce medium-term attention on Chilcot – though it will not stop the day of publication being uncomfortable."
Anticipating strong media coverage of the inquiry, Straw asked Powell to review his proposed statement, which would follow the Chilcot findings. In response, Powell advised Straw to share it with his successor, Condoleezza Rice (who served as the 66th US secretary of state between 2005 and 2009) and said he would do the same with Richard Armitage, a key foreign policy chief under former US President George W Bush.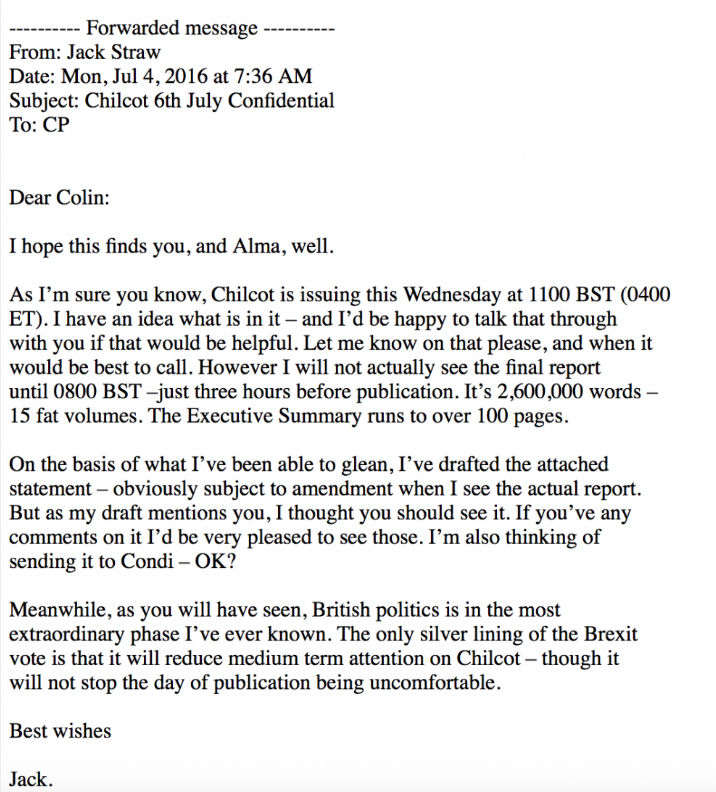 "I have no insight into Chilcot and it is not discussed in our media," Powell replied.
Sir John Chilcot delivered a damning verdict on Tony Blair's decision to go to war in Iraq. He concluded that "the UK chose to join the invasion of Iraq before the peaceful options for disarmament had been exhausted. Military action at that time was not a last resort."
Chilcot added that "the judgements about the severity of the threat posed by Iraq's Weapons of Mass Destruction were presented with a certainty that was not justified". The inquiry also found that post-war planning was "wholly inadequate" and that the government ultimately "failed to achieve its stated objectives".
Following the results of the inquiry, Straw expressed regret over the number of casualties, but refused to apologise for the war. "I'm deeply sorry for the loss of life, but what I'm not going to do is to say I'm sorry about the decision I made at the time," he said.
"I'm not going to back away from my judgement at the time on the best available evidence," Straw added.
"If we had known then what we subsequently learned there would have been no possibility of British military action, it would have been both unlawful and impossible, but that's with the benefit of hindsight."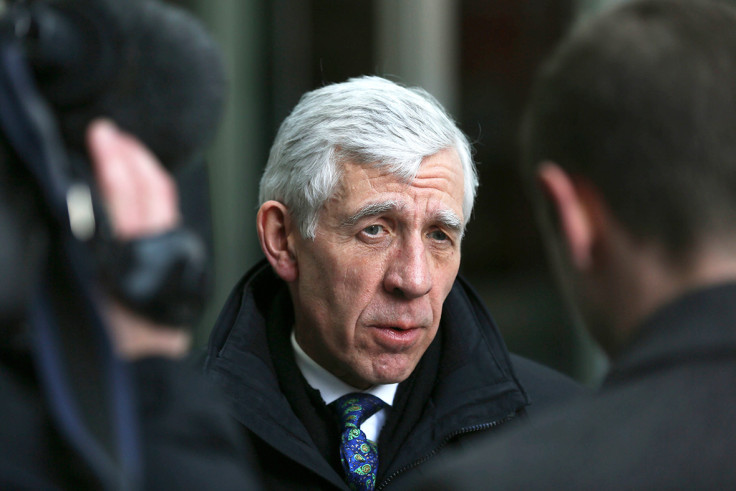 At least 163,618 civilians have died as a result of the violence, according to Iraq Body Count. The war also displaced 3.7 million Iraqi people and cost the lives of 179 British servicemen and women.
IBTimes UK contacted Jack Straw to independently verify these claims, but did not receive a reply at the time of publication.