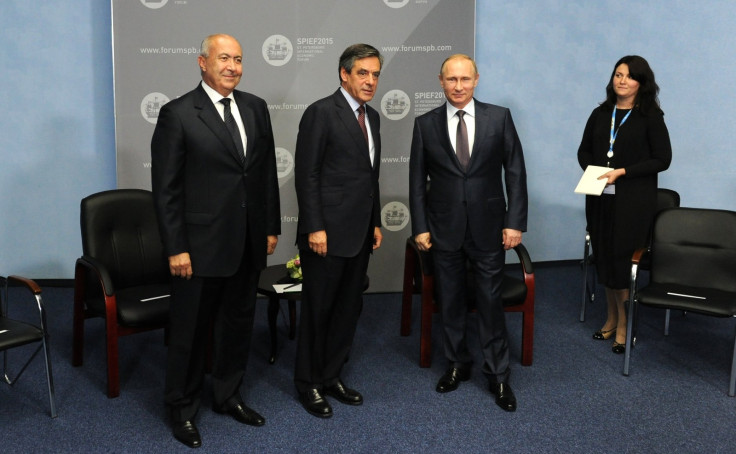 French presidential candidate Francois Fillon has been hit by a new wave of allegations further compromising his position as a credible leader.
The French satirical newspaper Canard Enchaine published new material today (22 March) accusing the Russophile candidate of accepting $50,000 (£40,000) from Lebanese businessman Fouad Makhzoumi to arrange a meeting with Russian President Vladimir Putin among other world leaders.
According to the newspaper report, Fillon was supposed to facilitate a meeting between Putin, Makhzoumi and French oil company Total CEO Patrick Pouyanne, who worked as Fillon's chief of staff at the information ministry in the 1990s, on the sidelines of the annual St Petersburg Economic Forum in June 2015.
Pictures from the event on the Kremlin website show Fillon, Makhzoumi and Putin sharing a stage together, but Putin spokesperson Dmitry Peskov denied the French politician played a role in the meeting. "Another fake" he wrote in a text message reported by Bloomberg.
Reacting to the latest reports, Fillon campaign coordinator Bruno Retailleau, speaking on French radio RTL today, labelled the claims reported in the French media "organised leaks", and lamented a "violation of the secret of investigation".
According to Retailleau, the alleged links between Fillon, Putin and Pouyanne, do not represent a conflict of interest and Fillon's consultancy is "perfectly legal". He said: "Francois Fillon told me he has this company and that he never had a contract with Total nor with the Russian state or a Russian company."
French newspaper Le Monde confirmed the Canard report on the agreement between Makhzoumi and Fillon, explaining that the payment was split in two tranches, one handed out in summer 2015 and one at the beginning of 2016.
The contract was stipulated between the Dubai-based company owned by the Lebanese billionaire, Future Pipe Industries, which produces fibreglass piping systems used in the oil and gas industries, and Fillon's private consultancy, 2F Conseil, a few months ahead of the campaign for the presidential primaries in the party of Les Republicains.
As part of the one-year contract, Fillon's company was going to facilitate access to policymakers in Russia, Algeria, Gabon, Ivory Coast as well as French companies. French newspaper Mediapart first reported about the agreement's existence on 14 March, describing Makhzoumi as the "Lebanese billionaire who embarrasses Fillon". The billionaire had previously been involved in a scandal which brought down the disgraced Conservative politician Jonathan Aitken in 2009 over a £100,000 undeclared donation.
Le Monde had already reported about Fillon's "murky" consultancy business in February. Under French law, MPs are barred from holding consultancy jobs unless they had one before joining parliament. Fillon's 2F Conseil was created 13 days before he was elected MP in 2012 following his term as prime minister.
The presidential candidate was placed under formal investigation by prosecutors on 14 March seeking to probe claims members of his family were paid hundreds of thousands of euros in public funds for work they never did.
Fillon had previously said he'd step down from the presidential bid in the case of a formal investigation, but he has yet to show any sign of honouring his word, despite falling approval rates.