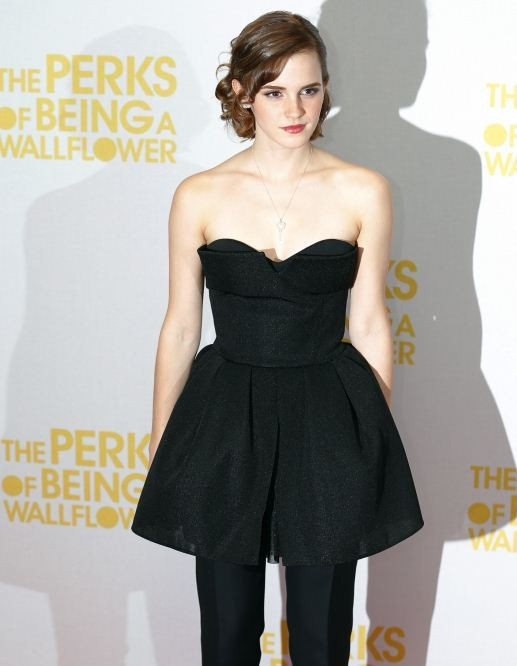 Harry Potter star Emma Watson was in demure black at the premiere for the screening of her new film The Perks of Being A Wallflower, at the Mayfair Hotel.
The young actress suffered an embarrassing moment at the Los Angeles premiere and this time opted for a black dress from the Christian Dior Fall 2012 collection, teamed with tailored black trousers and styled Dior pumps, diamond Boucheron earrings and a silver Tiffany & Co pendant. Her hair was slicked back.
Watson's new film, based on Stephen Chbosky's best-selling novel of the same name, sees her play her first major role since bringing Hermione Granger to life.
"It was challenging. I was very nervous," she admitted, adding, "Having played someone who was so restrained and very English to playing this free-spirited American girl, which was at the other end of the spectrum for me, it took a while to break down a lot of the barriers I didn't even realise I had put up for myself. So when I did, it felt very liberating. I'm very proud of the film."
She also admitted to being squeamish about watching some of the more explicit sections.
During an interview with Nick Grimshaw on his new Radio 1 breakfast show, the 22-year-old actress admitted she just can't watch when the intimate scene comes on during the movie.
"It's really funny because when I watch the film back, there are a few things I can't watch. I can't watch the Rocky Horror dancing scene, and I can't watch the kissing scenes," the 21 year old told Nick Grimshaw for the Radio 1 breakfast show, adding, "This film really pushed me out of my comfort zone. I told the director that I have just come from playing Hermione Granger and you are expecting me to dance and putting me in corsets, and it's difficult."
The film also stars Logan Lerman and Ezra Miller.