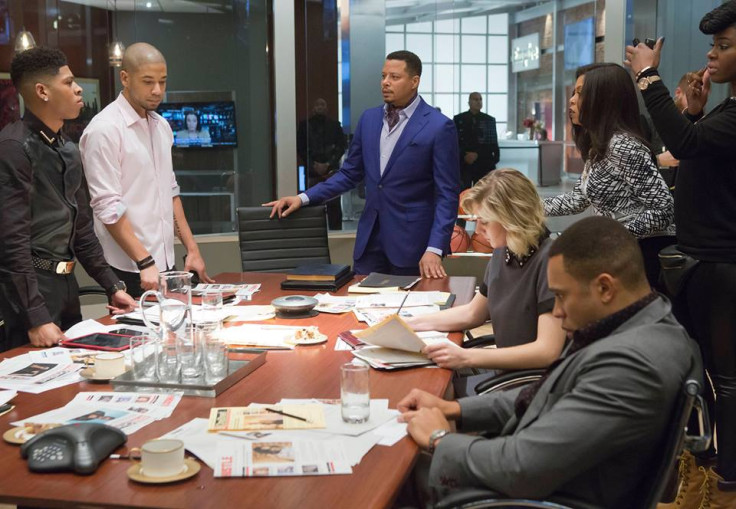 With just one episode to go, Fox's highest rated series Empire is headed towards an explosive finale, which will shatter the Lyon family and Empire entertainment.
The two-hour Empire season 1 finale will air on 18 March, on Fox network.
The final episodes are titled, Die But Once and Who I Am, where Snoop Dogg, Jennifer Hudson, Rita Ora, Juicy J, and Patti Labelle will guest star.
In episode 9 Unto The Breach, the Lyon family comes together to take down a common enemy, Billy Berett after Anika betrays Lucious. We also saw Andre suffering a mental breakdown, and trying to strangle Hakeem in a terrifying elevator scene.
Empire's Trai Byers also dishes on Andre's breakdown and what to expect from his character in the finale.
"I don't think that Andre wanted to have any signs of weakness; he didn't want to accept the bipolar disorder," Byers told The Hollywood Reporter.
"But at this point, it's like 'Who am I? My father doesn't want me; my mother's only concerned about Jamal; I don't have anybody but my wife. This is who I am, so I'm going to be me, flaws and all.' I like the analogy of cutting off your nose to spite your face because in accepting [the disorder] and going with the flow instead of treating it does that, but it's also a great platform to showcase the disorder — one that I think we kind of sweep under the rug as a nation."
When asked if Andre will make some decisions in the coming episodes, he replied, "There's a lot of betrayal going on at the hands of Lucious, who's the bad guy! Andre has felt betrayed.
"Had he not been mentally unstable, he probably would have buried things even deeper, and that's unfortunate. But who signed him away — who put him into the mental institution? Why wasn't it done earlier?" he added.
In the upcoming episode we will see Andre recovering from his bipolar disorder as guest star Jennifer Hudson tries to help the eldest Lyon.
Episode 10 is titled, Sins Of The Father, which will air on Wednesday, 11 March, 2015.
Grammy award winner Mary J Blige and Raven-Symoné of That's So Raven will guest star in the episode.
The official synopsis reads as follows:
Andre forms a new musical relationship with Michelle (guest star Jennifer Hudson), and a woman from Lucious' past, Angie (guest star Mary J Blige), comes into the picture. Meanwhile, Lucious invites the whole family over to his home. However, everyone arrives with their own agendas. Hakeem, under the influence of Camilla (guest star Naomi Campbell), sets out to show his father that he's a true artist and a good businessman. Then, Cookie prepares to state her own agenda for Empire and for her family, when Olivia (guest star Raven-Symoné) arrives in the all-new Sins Of The Father.
Lucious and Jamal are inching closer to fixing their relationship, but there is one problem: "Lucious has a secret that's about to change everything."
Could Jamal find out about Bunkie's murder? Or is this yet another secret Lucious has been hiding? Maybe something related to Jamal's supposed daughter?
We will have to wait to find out.
Watch the Sins Of The Father preview video here: