Lucious Lyon is out of jail and ready to get back at those who wronged him in Empire season 2's third episode airing Wednesday, 7 October at 9pm EST on FOX. The drama surrounding the Lyon family is going to get interesting with Lucious out of jail, Cookie and Hakeem starting their own company and naming it Lyon Dynasty and Andre willing to go to great lengths to win his father's trust back.
Episode 3 is titled, Fires Of Heaven, and the official synopsis reads as follows:
Cookie and Anika secretly work together behind Lucious' back to pull off a surprise performance that catches the eye of Pitbull (guest-starring as himself). Meanwhile, Lucious tracks down Frank Gathers' daughter, Young Ma (guest star Bre-Z Murray), to try to convince her to sign with him at Empire, while Hakeem is hard at work on his girl group, Ménage a Trois. Also, Andre and Rhonda hope their baby-on-the-way will be the key that unlocks Lucious' cold heart and opens the door for Andre to return to the Empire fold in the all-new "Fires of Heaven" episode of Empire.
Episode 2 ended with Lucious getting out of bail, as Hakeem and Cookie start their own company to take down Empire. Fox has released a new promo where actors Trai Byers and Jussie Smollett talk about family dinners and Cookie's big moment.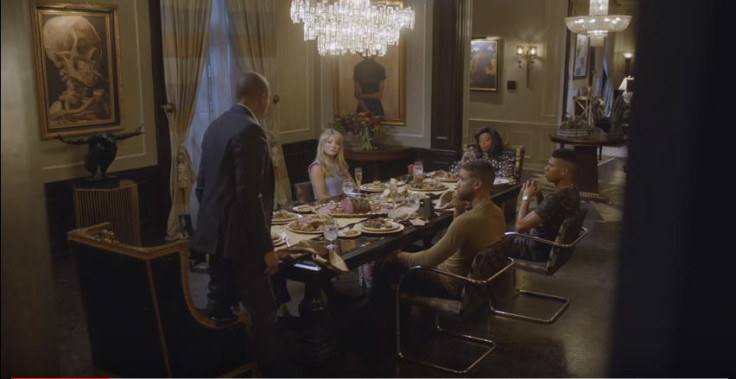 Jussie Smollett (Jamal) says in the video, "Lucious is out of prison and has invited the entire family over to the mansion for dinner. Of course everybody thinks something shady is going to go down."
Trai Byers (Andre) said that Cookie is the leader and she is not going down without a fight. He teased a big showdown, adding, that Lucious made an offer that if everyone gives up Lyon Dynasty, all would be forgiven. However, Cookie has the final word. "But what will that word be," teased Smollett. Lucious himself declares, "I want you guys to eat, drink and be merry, because tomorrow we are at war."
In the same episode, the FBI will raid Empire and Cookie will get into some trouble with the law. Luciuos promises Andre that if he can make this mess go away he can have anything he wants. Showrunner Ilene Chaiken teases a big conflict in Empire season 2 in an interview with Variety.
Chaiken said, "Episode two sets up the central conflict of the entire season, or at least the entire first big arc of the season. Cookie and Hakeem are starting Lyon Dynasty."
"It's Empire versus Lyon Dynasty, David against Goliath. These two music companies at very different points in their business lives are going to be going at one another -- and the individuals behind them are going at one another to win."