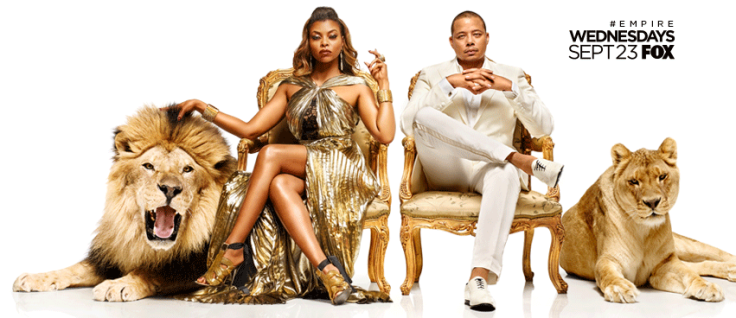 Empire season 2 will return on 23 September, and the premiere episode is titled, The Devils Are Here. The season 1 finale of the hit Fox series ended with Lucious in jail, Jamal leading the company, and Cookie and Hakeem conspiring with Anika for a hostile takeover.
Season 2 will pick up six months after the event of the finale. Lucious Lyon (Terrence Howard) might be in jail when season 2 begins, but he is ready to take down those who led to his downfall.
Here are a few things to expect next in the series:
1. Lucious' vengeance: Showrunner Ilene Chaiken teased in a new preview video, "He [Lucious] is coming back with a vengeance, and with more power and determination than ever." Actor Terrance Howard teased that "season 2 is going to show Lucious' entire life, the tragedy that happens as a child, and the things that turn him into Lucious."
The actor teased that what he did on the streets while Cookie was in jail and what he did before he met Cookie will be explored. Besides, Lyon's past relationship and friendship will be a part of flashback scenes in season 2.
2. Jamal running the Empire: Season 1 ended with Lucious passing over his company to Jamal to run, but can the young Lyon fill his father's shoes? Ilene Chaiken said that it takes a "gangster heart" to run Empire and he saw Jamal as the son who has the talent, disposition and cunning to take over from him."
Executive producer Danny Strong teases struggles ahead for Jamal in running the company smoothly. "I think that's going to be a struggle for Jamal all throughout the course of the season," he said. "He has finally come to this place with his father, and it appears that to continue that relationship, it may be at the expense of his relationship with his mother," the producer teased.
3. Jamal and Cookie's relationship: Jamal and Cookie have been the only ones in the family who were always there for each other, but the events of the finale episode might have strained their relationship forever. Jamal was shattered to see Cookie going against his father, and getting him arrested.
Taraji P Henson (Cookie) teased about the mother-son relationship and said, "Jamal and Cookie are pretty much not speaking to each other, because Jamal thinks that Cookie betrayed Lucious and the family... But hopefully he will come around and know that his mother is not a snitch."
4. Hakeem will get a new love interest: Hakeem Lyon (Bryshere Y Grey) will woo a new singer, Laura in season 2. According to an Eonline report, "Sparks will be flying for one of the Lyon brothers and an aspiring singer when the Fox hit returns."
Expect to see the youngest Lyon [Hakeem] attempt to woo a seriously talented vocalist Laura, both professionally and personally. "But it won't be easy as she isn't exactly down with Hakeem's romantic intentions," claims the report.
5. Guest stars: The pilot season's music was widely popular, and season 2's musical performances and guest stars' list will be even bigger and better. Pitbull is one of many guest stars for the new season, including Mariah Carey in a top-secret role. Then there are Chris Rock, Kelly Rowland, Marisa Tomei and Ludacris, with recurring player Adam Rodriguez, playing a potential love interest for Cookie.