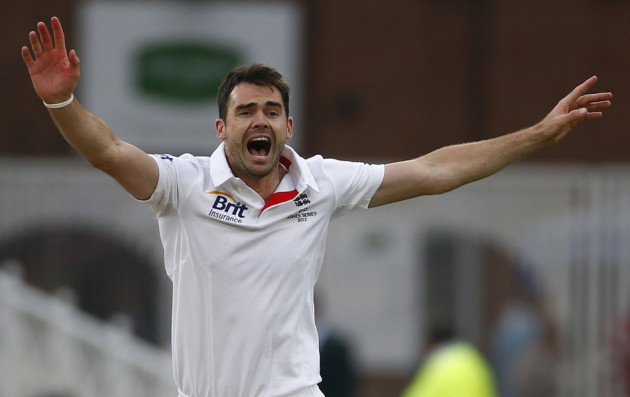 James Anderson and Steven Finn led a brilliant England comeback after a torrid opener with the bat on the opening day of the Ashes series at Trent Bridge after a rampant Peter Siddle tore through the hosts.
The Australian right arm fast bowler took a remarkable five for 50, making him the first Australian bowler to take five wickets on the opening day of an Ashes series on two separate occasions since 1893, as England went all out for 215, before the duo of Anderson & Finn pinned the tourists back at 75-4.
After winning the toss a comfortable opener soon turned disastrous as England lost their last four wickets for two runs with the rampant Siddle disposing of Joe Root (30), Jonathan Trott (48), Kevin Pietersen (14), Ian Bell (25) and Matthew Prior (1) in the process.
James Pattinson caught out Cook when a loose drive from the England captain fell kindly Brad Haddin. While there had been some concern of how Cook would handle the left arm seam of Australia's Mitchell Starc, it was an aggressive right arm over from 23-year-old Pattinson that saw Cook take an early exit.
Stuart Broad would soon follow, caught and bowled after an ambitious pull hit went horrible askew, before Starc compounded England's woes by taking two in two as Jonny Jonny Bairstow and Steven Finn made swift exits.
England were out in 59 overs when Graeme Swann was bowled out by Pattinson, and the home crowd's mood was darkened when a shoulder injury to Stuart Broad compounded their despairs, as the 27-year-old was left unable to field for the start of Australia's innings after suffering a blow while batting.
After a quite remarkable capitulation, the hosts responded in sublime fashion, with Australia's Shane Watson (13) swiftly caught by Finn after hitting a thick strike towards the slips where it was collected by Root, lifting the roof off Trent Bridge.
Finn followed up his efforts in quick succession as Ed Cowan was dismissed after his straight forward strike was collected at the second slip by Swann.
After just surviving the hat trick ball, Australia captain Michael Clarke could not do anything about a wonderful throw from Anderson as the Lancashire man removed the opposition skipper to make it 22-3, a feat that also lifted Anderson into third place in England's all-time leading wicket takers.
The Lancastrian went on to dismiss Chris Rodgers before Australia reached 75 before a sensational opening day reached its conclusion.