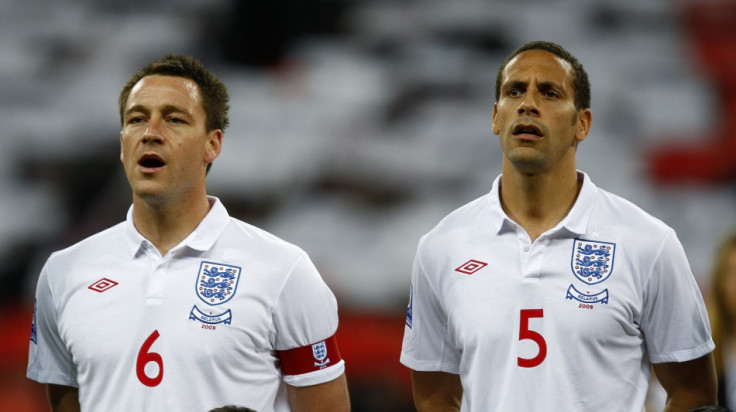 Manchester United centre back Rio Ferdinand has been left out of the England squad for the 2012 European Championships according to the BBC. The decision was made by new England boss Roy Hodgson. The manager has chosen not to include the 33 year old veteran but Chelsea captain John Terry is expected to make the cut. The final 23-man squad will be named at 13:00 BST on Wednesday.
The debate over whether Ferdinand would be included has caused much speculation and he was originally thought to have been the preferred choice over Terry. Hodgson is believed to be against selecting both players due to Terry's impending court case regarding racial abuse claims made by QPR defender Anton Ferdinand, who is the Manchester United veteran's brother. The manager reportedly met with both Ferdinand and Terry on Tuesday to inform them that only one of the pair would make the final squad. Ferdinand was also rumoured to be against linking up with Terry for England duty after the incident involving his brother and the Chelsea man. A report on ESPN said Hodgson planned to wait till the day before the squad announcement to ensure he could explore every option available.
Incidentally, Ferdinand has never played in the European Championships. He was left out of the squad for the 2000 tournament and missed the 2004 edition because of a failed drug test. England failed to qualify for the 2008 tournament.
Meanwhile, another United defender Chris Smalling is certain to miss the tournament through injury, while doubts remain over the fitness of Chelsea centre-back Gary Cahill. A report in The Sun added that Stoke City forward Peter Crouch, Manchester City right-back Micah Richards and Everton defender Phil Jagielka would also miss out.
Finally, Tottenham Hotspur's 21 year old right-back Kyle Walker will also not be included in the final list due to a toe injury picked up during the club's match against Fulham on Sunday, despite club boss Harry Redknapp saying the 21 year old would recover in time. Liverpool striker Andy Carroll, however, is expected to make the squad.
Hodgson has also cancelled the training camp scheduled to be held in Malaga, Spain. England will now travel to Norway for a friendly - Hodgson's first game in charge on 26 May, before playing their final warm-up game at Wembley against Belgium on 2 June.
England are in Group D and will face France on 11 June. Sweden and Ukraine are the other two teams in the group.