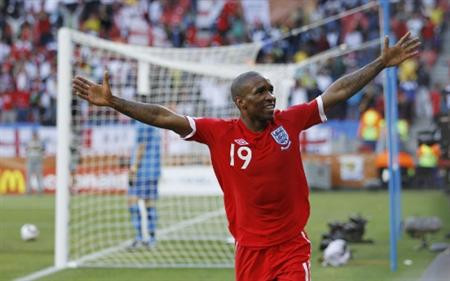 England are confident of victory in their upcoming match against arch-rivals Germany, which is due to kick off at 15:00 this Sunday in the last 16 of the World Cup.
England finished second in their group after a narrow 1-0 victory against Slovenia, by contrast Germany finished top of their group with a similar score against Ghana.
Although they did not top their group as Germany did, England have good reason to be optimistic about their chances. England did not lose any of their group stage games, despite some lacklustre draws, while Germany suffered a shock defeat at the hands of Serbia.
In addition England have yet to concede a goal since dropping goalkeeper Robert Green in favour of David James, following England's opening game which ended in a 1-1 draw against the USA after Green conceded a surprise goal.
Despite England's lack of clear wins so far in the World Cup, James has said that he is "confident" that England can defeat Germany in 90 minutes and so avoid a penalty shoot-out which has so often heralded the end of an England campaign.
James said that he would be doing his "homework" on likely German penalty takers but emphasised again and again that England intended to beat the Germans without the game going to extra time or penalties.
James' emphatic statement that England would do everything in its power to defeat Germany in 90 minutes is perhaps best understood by the fact that England were knocked out on penalties at World Cup 2006, Euro 2004, World Cup 1998, Euro 1996 and World Cup 1990 (on two of these occasions they were beaten by Germany).
Meanwhile in the German camp former player Franz Beckenbauer attempted to undermine English morale ahead of the game saying to German newspaper Bild, "Stupidly, the English have slipped up a little by finishing second in their group,"
"The English look a little tired... they are burnt out. We respect them but we certainly don't fear them."
England's last competitive game against Germany ended in an astounding 5-1 victory in Munich in 2001 during the qualifiers for the 2002 World Cup. Four of the players who took part in that victory are in the current World Cup squad for England.