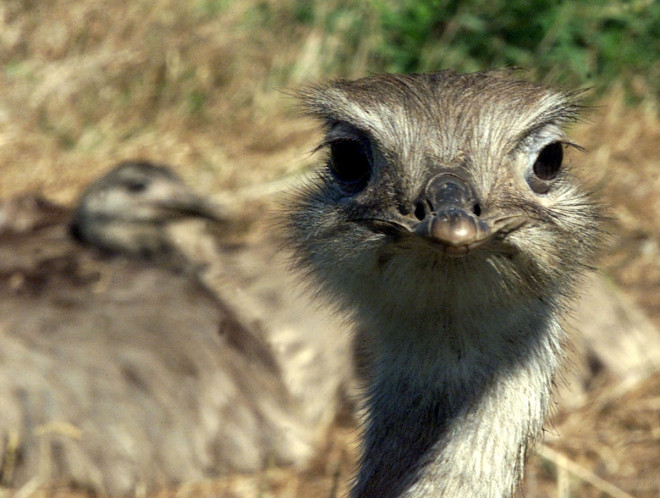 A giant bird that had been on the loose in rural Hertfordshire for more than a month after escaping from its owner has been shot dead by a gamekeeper.
The 6ft flightless rhea was dispatched by gamekeeper Stuart Howe from 70 yards with a single shot to the head after wandering into a rape seed field.
Named Chris after singer Chris Rea, the bird had been regularly sighted wandering around Barkway Park Golf Club near Royston, Hertfordshire, after escaping from its nearby enclosure.
Police ordered the bird to be killed as it risked causing an accident if it wandered on to a road.
"It's sad that someone had to shoot it, but if it was a traffic hazard, I understand that," golf club captain captain Mike Rodgers told the Daily Telegraph.
"The golfers here sort of adopted it and used to enjoy seeing it grazing near the golf course. We were quite fond of the bird. It was never a particular nuisance and kept well away from golfers."
Howe, 65, said that the animal had had died instantly and had not suffered unduly.
"I suppose some people might say it is a shame the rhea is dead but it would be terrible if it caused someone to die in a car crash. I saw the rhea near the roadside at one point and it would easily have caused a car to swerve and hit a tree," he told the paper.
"What's the life of a bird against the life of a person or family? The police wanted it out of the way and there was no way anyone would be able to capture it."
The RSPCA had warned people not to approach the bird, which was reportedly capable of disembowelling someone with its claws.
Running at up to 45 miles per hour, it had proved impossible to catch.
Chris will now be made into gourmet sausages.
Insp Paul David of Hertfordshire police said: "I am amazed it survived this long to be honest. It would have been a real problem if it had wandered into the road and posed a traffic hazard. We will have to notify the owner that the bird has been killed."
Watch a rhea attack on YouTube, below.