EU referendum: Ukip call David Cameron 'chicken' after dropping Nigel Farage meeting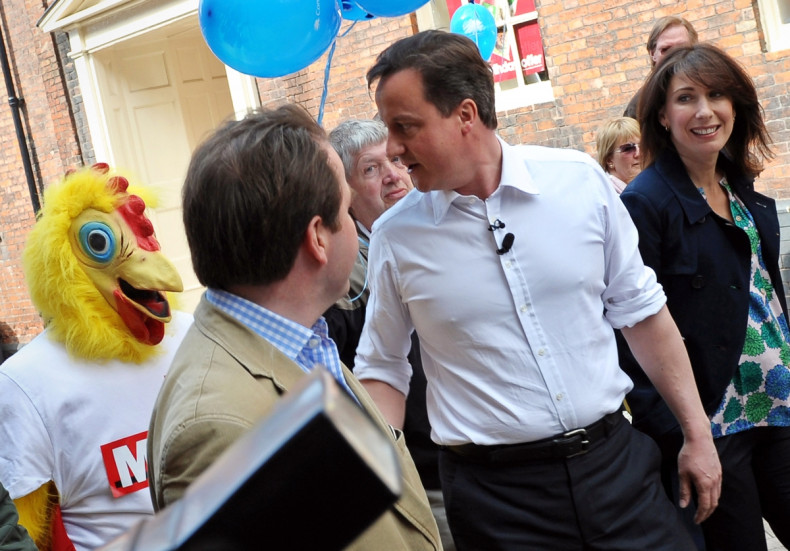 Nigel Farage has reignited his war of words with David Cameron by accusing the prime minister of being "chicken". The Ukip leader issued the warning after Cameron dropped a planned meeting with the Eurosceptic firebrand in Brussels to discuss his draft EU reform deal on 16 February.
"The prime minister is chicken. I received my official documentation this morning to say that I was one of several meeting the PM tomorrow morning and he has now run away," Farage declared. "Frankly I'm not surprised. Not only is the deal pitiful but he would not want me exposing the fact that even if he wins the referendum, the European Parliament will veto it.
"Ukip won the European [Parliamentary] Elections in 2014. By refusing to meet me Cameron is insulting millions of British voters. He knows he's losing."
The meeting was to be held at 11.30 and would have included the European Parliament President Martin Schulz as well as political group leaders, including Farage (Europe of Freedom and Direct Democracy) and other figureheads such as Manfred Weber (European People's Party) and Gianni Pittella (Progressive Alliance of Socialists and Democrats).
Downing Street had not responded to a request for comment at time of publication.
The development comes as the British prime minister looks to finalise his renegotiations with the EU after the European Commission President Donald Tusk tabled a draft settlement. Cameron welcomed the proposals as "real progress", but the Conservative leader has since faced criticism from his own MPs over the draft deal.
Senior Tory David Davis, a former leadership rival of Cameron's, claimed the prime minister's renegotiation was a "waste of time".
"It is rumoured that a French negotiator told his British counterpart that they were 'happy to give the British anything they wanted, so long as it was nothing of substance'. He must have had the emergency break in mind when he said it," the Eurosceptic said.
The latest opinion polling data is also bad news for Cameron as "leave" is ahead. An online ICM survey, of more than 2,000 people between 5 and 7 February, had 'leave' on 42% and 'remain' on 41%, with 17% of respondents undecided. Cameron is expected to hold the referendum on 23 June.