More than 150 drunk England football fans and Marseille hooligans were involved in violent clashes on Thursday night (9 June) ahead of the Euro 2016 opening match.
Armed police with attack dogs fired tear gas to disperse the two unruly groups as parts of Marseille were once again transformed into a street battle – nearly 20 years after the city endured three days of clashes during the 1998 World Cup.
Fans were seen hurling chairs and throwing missiles at each other, while one piece of disturbing footage showed a man being attacked by a mob armed with makeshift weapons. One England supporter was later seen lying in a pool of blood.
The fighting is believed to have broken out just before midnight, when a group of football hooligans known as the "Marseille ultras" reportedly attacked England supporters drinking outside the Queen Victoria pub, and the Irish bar O'Malley's, on the quayside in the Old City Port.
Local youths armed with makeshift weapons were heard shouting "Get the English", according to the Evening Standard, while English fans reportedly responded: "Isis, where are you?"
Other witnesses claimed the fight began when England supporters drinking in the area targeted a Muslim Arab selling tickets.
A police official said about 100 England fans were involved in the trouble along with at least 50 Marseille locals.
Two England fans were arrested following the clashes, one for allegedly assaulting a barman and another for suspected violent disorder, while a third was taken to hospital with head injuries.
Further arrests and possible bans from football matches could follow, as police spotters from Northamptonshire constabulary, working alongside the French gendarmerie, were also present to film and identify troublemakers.
The group of England fans were some of the first to arrive in Marseille ahead of England's opening match with Russia tomorrow (11 June). Many had gone straight from booking into their hotels to drinking in the local bars and pubs.
"None of the England fans were doing anything wrong – a few of us had a bit much to drink, but that was all," one fan from Leeds told the Daily Mail.
"Suddenly a French gang appeared and started attacking us, and throwing stuff. We had to defend ourselves, and then the police showed up."
Chris Lord, another England fan from London, added: "This was a really nasty attack. The gang knew exactly where we were, and clearly wanted to hurt us."
Kevin Miles, chief executive of the Football Supporters' Federation, said the French police were "a little bit indiscriminate" in handling the problem.
He said he did not believe the incident would set the tone for the rest of the tournament. "People were drinking and having a bit of a sing-song all day, the French police were very relaxed, letting them get on with it," he said.
"It was all fine until, our understanding is, a group of around 30 to 40 locals turned up, I think with the intention of provoking the England fans to see if they could get a rise out of them.
"In those circumstances it's the police's job to prevent a confrontation and they used French methods to do so, which we're not particularly used to.
"They used tear gas, which is a little bit indiscriminate for my liking, but it did the job and the problems were over. There were a couple of arrests of English fans as they responded to that provocation."
The night's events brought back memories of the violence which erupted in Marseille during the 1998 World Cup after England's match against Tunisia. The three days of clashes saw 100 people arrested and 30 others taken to hospital.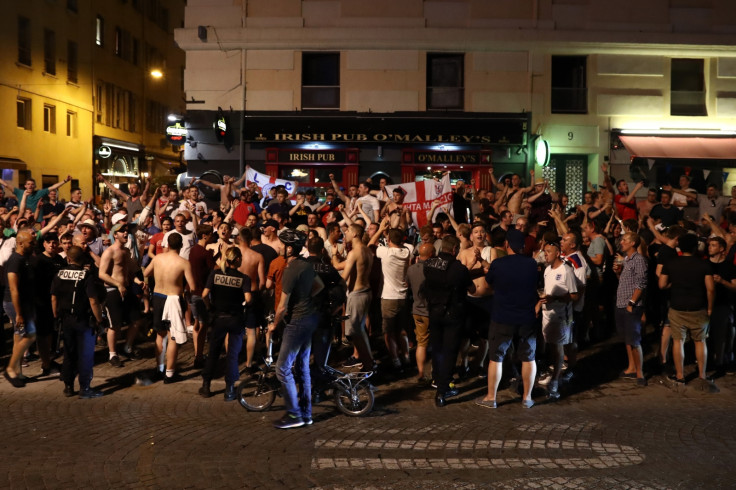 While forced to deal with Thursday night's violence, French police have also been on high alert over potential terrorist attacks during the Euro 2016 competition.
This includes from Islamic State (Isis, Daesh) fighters and those on the far-right, with Ukraine's intelligence agency revealing earlier this week the arrest of a Frenchman accused of planning attacks during Euro 2016.
With about 2.5 million spectators (including 1.5 million fans from abroad) expected for the 51 football matches involving 24 teams, the Euro 2016 organisers have increased the security budget for the tournament by 15% to €34m (£26.5m, $38.6m).