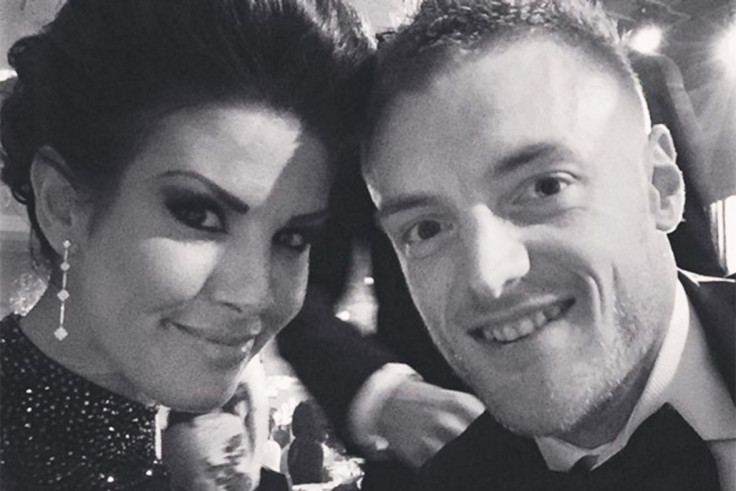 After contributing to England's victory against Wales with his stunning equaliser, Jamie Vardy was dealt a huge blow when his team failed to notch a goal during Monday night's match against Slovakia. But despite the goalless draw, the Leicester City hero definitely didn't walk away empty handed. You see, cheering him on from the crowd throughout his full 90 minutes of grafting was new wife, Rebekah Vardy.
Donning a patriotic ensemble which featured a bright red cap, emblazoned with the word 'England', the brunette beauty – who previously said that the wives and girlfriends of sportsmen don't get the credit they deserve– mirrored her man's rollercoaster of emotions during the tense game. Chances are she was on hand to offer some words of encouragement and a shoulder to cry on after Roy Hodgson's game strategy failed to pay off.
But this would not be the first time she proved herself worthy of more than just WAG status. Despite his family's disapproval of their union, the 34-year-old former party planner continues to exhibit the attributes of a supportive wife, often giving passionate football fans a run for their money.
Long before Vardy suited up for the Euros, he made history by becoming the first player to score in 11 consecutive Premier League games. She celebrated the momentous occasion by telling fans on Twitter "Never a more prouder moment! This guy is not only my hero, he's my inspiration!...No words left."
And while many new brides would resent having to postpone their honeymoon for a football competition, England's newest WAG seems to have taken it in her stride. She happily packed her kit for weeks in France over a skimpy bikini for a sun-soaked retreat. "Another day another game...come on #England #11" she recently captioned a snap of her posing in an England Top.
Some WAGs would be more at home getting a mani-pedi at a Essex salon, she has been in the trenches and endured taunts from rivals and tear gas released by riot cops when Three Lions supporters clashed with Russia fans. "That has to be up there with the worst experience EVER at an away game! Teargassed for no reason, caged and treated like animals! Shocking!" she said of the harrowing experience.
As a director of his V9 Academy, an organisation aimed at helping non-league soccer players fulfil their potential, she gives back to the youth in the hopes of inspiring the next Vardy. Trolls that think they can attack Vardy on social media, are soon left disappointed when she comes after the keyboard warriors with the vigour of a pitbull protecting its family.
They say that behind every great man is his woman and in this case she is in the stands showing the other ladies cheering on their other halves how it's done.