European football body Uefa will open disciplinary proceedings against Croatia after their supporters threw at least 15 flares and fireworks on to the pitch and fought battles in the stands. The fans seemed to be fighting among themselves and one of the flares left a steward visbily shocked as he fell to the ground at the sound of a huge bang.
The flares began landing on the pitch at the feet of players, around the 85th minute, with English referee Mark Clattenburg being forced to halt the match for several minutes. On the pitch, their team were winning 2-1 against the Czech Republic, but after the stop in play, they went on to draw 2-2 at Saint-Etienne's Stade Geoffroy-Guichard thanks to a 94th minute penalty.
The scuffles in the stands will almost certainly result in a warning for Croatia after similar behaviour was seen by Russian supporters when they played England in Marseilles on Saturday 11 June. TV cameras caught a small group of supporters, some in black T‑shirts repeatedly attacking their compatriots as their players called for calm.
Following the incident, Uefa will open disciplinary proceedings on Saturday 16 June after receiving Clattenburg's match report. The Vatreni have a number of aggravating issues that will affect any sentence after a series of hooligan issues whilst qualifying for Euro 2016.
Croatia coach Ante Cacic, said according to the Guardian: "What has happened was terrorism. They are hooligans, not supporters. Their place is not in the stadium but even people in the Croatia media were not happy with my comments about that before the game."
In Milan, in 2014 a qualifying match with Italy was temporarily suspended when Croatia supporters threw flares on the pitch. During another match, against Norway, racist chanting was heard in the crowd, forcing the home match against Italy to be played behind closed doors.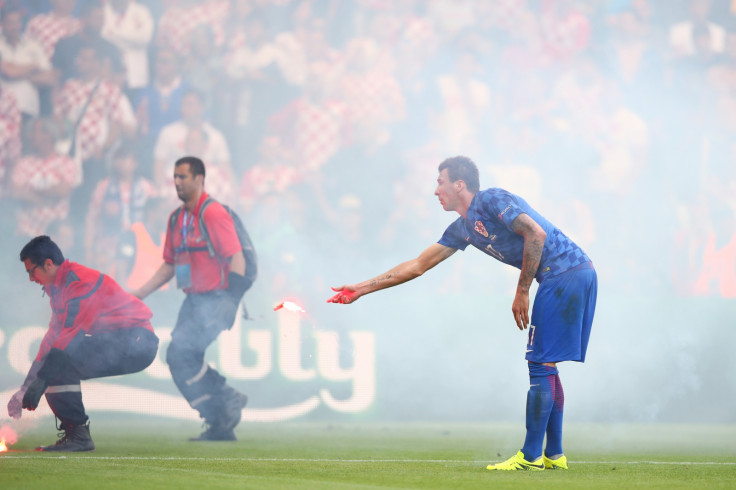 They were then docked one point by Uefa after a Swastika symbol was carved into the pitch before the Italy match. Then, only last month, Croatia were handed a two-game crowd ban from international football body, Fifa, because of discriminatory chants heard during friendlies with Israel and Hungary in March 2016 - with fears they could be removed from qualifying in 2018.
Cacic continued: "The same thing happened in Milan against Italy, there was the Nazi sign on the pitch – they are ruining what we are doing. They probably have support from somewhere, but 95% of Croatians are ashamed in front of the whole of Europe.
"Our players are so sad. They are so proud to wear the Croatia shirt and play for the Croatian people and we are very sad after playing such a beautiful match."