Europe needs to arrest more 'Godfather-type figures in the people smuggling business'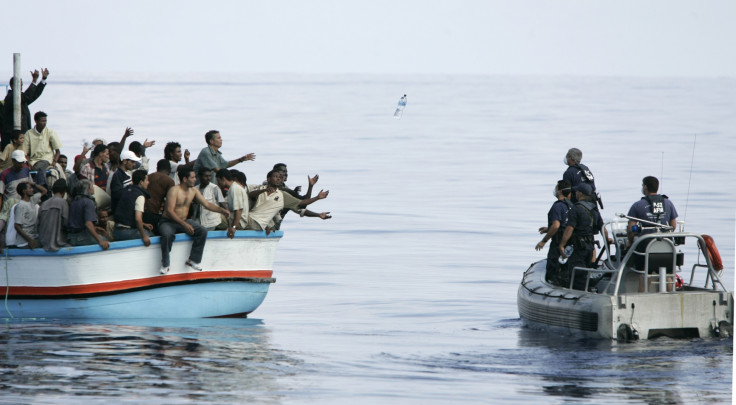 On Friday 24 April, the skipper and a crew member of the migrant boat that capsized off the Libyan coast killing at least 800 people days earlier are appearing before a judge on charges of mass murder, but lawyers warn Europe is failing to tackle the problem by allowing "Godfather-type figures in the people smuggling business" to escape prosecution.
According to Stephen Platt, a barrister and practitioner in financial crime prevention, European leaders need to focus on prosecuting the figure heads of human smuggling and trafficking networks, as well as clamping down on the financial bodies allowing smugglers' money laundering activities, to send a strong message.
"Street level operatives should be prosecuted, but if Europe wants to send a very strong message, then it has to deploy the same tactics that the United States have successfully deployed in South America with the drug cartels. It's the big scalps that they need to begin to take," Platt, who has widely investigated smugglers' activities, told IBTimes UK.
Smugglers consider their work to be low risk but rewarding, and arrests are very rare.
"There have been no arrests of kingpin figures in the people smuggling business. None of the senior operatives, just the junior street-level operatives, are prosecuted on the rare occasions when we see a prosecution," the barrister explained.
"The authorities need to encourage the finance industry to cooperate through the provision of more guidance and education on the issue of human trafficking and smuggling. They are predicate crime types that merit as much attention as drug trafficking."
Like the drug or arms trade, the smuggling of migrants to Italy and onward to northern Europe is big business, estimated to be worth as much as $32bn (£21bn) by the UN in 2005, although the exact figure is hard to pinpoint.
The UN ranks the trafficking of human beings among crimes netting the largest financial benefits after drug and arms trafficking, with its Office on Drugs and Crime (UNODC) reporting that the income of smugglers who operate on the East-North-West Africa to Europe route – through which 55,000 people are estimated to migrate Africa each year – amounts to around $150m annually.
Financial services need to cooperate
Whereas many investigations into drug trafficking are initially spurred by reports that are made by the financial industry, that isn't the case for human smuggling, Platt says.
"While it is not the finance industry's problem, the authorities need to encourage the finance industry to cooperate," he said.
The Financial Action Task Force published a report in 2011 that showed that smuggling and trafficking of human beings generates proportionately fewer suspicious activity reports (SARs) annually than comparable crimes, including drug and arms trafficking.
"There is a much lower level of awareness of the smuggling issue within the finance industry than there is of drug trafficking and arms trafficking," Platt explained.
The industry has got to take steps to educate itself about this risk in the same way that it has done in the course of the last few decades in relation to drugs, according to the barrister who explored such issues in his book Criminal Capital: How The Finance Industry Facilitates Crime, published by Palgrave Macmillan.
The sector has got to sensitise its work force and indeed its systems and control environment so that it begins to take into account that certain countries have a much higher association with human smuggling than others.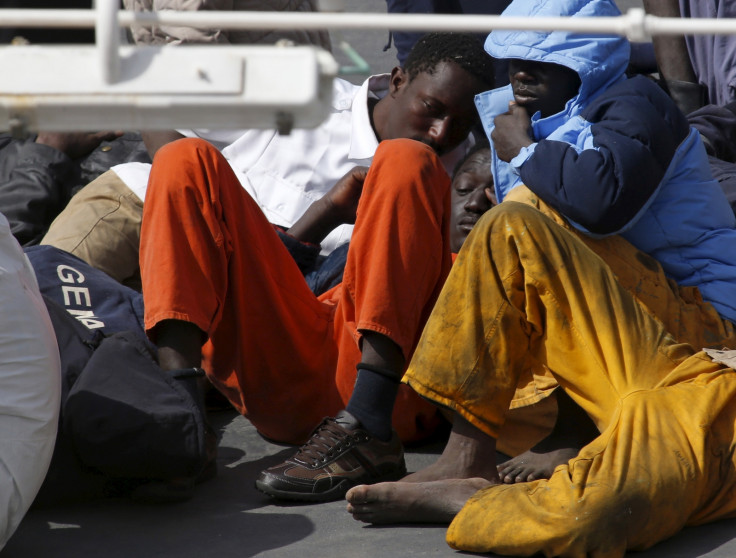 Surviving immigrants lie on the deck of Italian coastguard ship Bruno Gregoretti in Senglea, in Valletta's Grand Harbour
Reuters
"For instance, if you have an unemployed Albanian with a bank account in Amsterdam and you see a series of remittances into his account from money service businesses, you need to be sufficiently aware of the risk of people smuggling as an activity in Albania for that to flag as a possibility so that SARs can be made to the authorities," he said.
"Presently, smuggling and trafficking of humans generate proportionately fewer SARs annually than comparable crimes because the level of awareness is lower."
Platt claims European leaders must recognise that people smugglers launder their ill-gotten gains very effectively without automatically relying on the traditional banking system.
Regarding the Sub-Saharan African route into Europe, there is a preponderance in the use of money service businesses, alternative remittance systems like the hawala system and money placement through legitimate businesses that are cash intensive – front companies –where criminal money is mixed with legitimate money making it impossible to identify what is legal trade and what isn't.
This, Platt explains, is linked to the fact that many of the countries of departure for migrants are stateless and cash-intensive.
"Relative to how difficult it is in the United States and the UK to place cash into the banking system, it is far easier in other parts of the world with cash economies including the Middle East and Southeast Asia," he said.
Crackdown on Middle Eastern banking system
With the recent crackdown on the Swiss banking system, criminals are turning to the Middle East, where Platt says it is still "relatively easy" to infuse cash.
"Relative to how difficult it is in the United States and the UK, it is very easy to do that in places like Dubai, for example, even as the banking system is emerging as one of the top international financial centres."
The stringency of their anti-money laundering control environment and their cash economies means that the system is "woefully inadequate" by comparison with many other parts of the world.
"Many countries which are emerging as successful international financial centres are not being sufficiently scrutinised and criticised by the international community in the same way that we see with smaller offshore centres. The idea that these countries are competing on a level playing field when it comes to international scrutiny is nonsense.
"The more systemically important or geo-politically sensitive a jurisdiction is the more they can afford to get away with in terms of competitive arbitrage including through cash handling," he said.
More than 35,000 are thought to have crossed from Africa to Europe this year and some 1,750 have died while attempting the journey.
What is the difference between human trafficking and smuggling of migrants?
- One important difference is that of consent
- A person who is trafficked will be relocated and will then work through coercion, either from the outset or as the result of a deceptive situation that they cannot escape.
- In contrast, a smuggled migrant takes part in a consensual act: wishing to enter a different jurisdiction illegally, the migrant seeks assistance from a professional as to how to do so and will then willingly undertake a journey organised by the smugglers' network.
- Contrary to many misconceptions, human trafficking does not have to involve the crossing of a national border, whereas this is the essential feature of migrant smuggling.
- People tend to think that people pay to be smuggled across borders, so it is difficult therefore to perceive these people as victims.
- The reality is that there is a very close nexus between people smuggling and people trafficking and many of the figure heads are involved in both, and many people who pay to be smuggled end up being victims of human trafficking.
© Copyright IBTimes 2023. All rights reserved.