Mediterranean people traffickers have laughed off an EU proposal to use military force to destroy their vessels, saying they were easily replaceable.
The traffickers added that the migrants were so desperate to get to Europe that they would buy their own dinghies and cross the seas alone, a report in The Times says.
EU heads of government met in Brussels on 23 April and vowed to capture and destroy traffickers' vessels to stem the deadly flow of migrants to their shores.
Since the beginning of the year, more than 1,000 people have been killed as they travelled between Libya and Italy, more than 100 times the number who died in the same period in 2014.
The Times also reported that the traffickers responsible for the Mediterranean's deadliest migrant sinking on 19 April, in which more than 700 people died, beat passengers to death before the ship capsized.
Italian prosecutors said that before sailing passengers had been held at a farm in Libya for a month and some died from beatings. Others died from hardship.
One of the traffickers, "Abu Ahmed" told The Times: "Even if the EU threatens to strike our properties, destroy our boats, the issue will not stop. We are not the problem."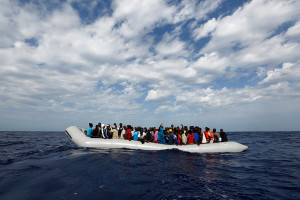 The 34-year-old Libyan who makes thousands of dollars a month, added: "The migrants themselves are desperate to cross. Some of them , particularly the Syrians, have started buying their own boats and making the journey alone without our help. You can't stop them.
"The coastline is nearly 2,000km long. If you target one small section, people will find another patch of beach and more boats to launch. Tell me how they plan to patrol the whole of Libya and stop us?"
One of the groups controlling the trafficking, Libya Dawn, told the Times that an armed assault on Libyan territory was akin to war.
"Taking out boats without our permission would be considered a declaration of war against Libya," said Abdel-Qader Huweily, a prominent Libya Dawn parliamentarian, whose group reported outgun the official Libyan Armed Forces. "Our government rejects the interference of a foreign country on our shores."